Philadelphia, PA
May 15 - July 26, 2007
Installation/Photography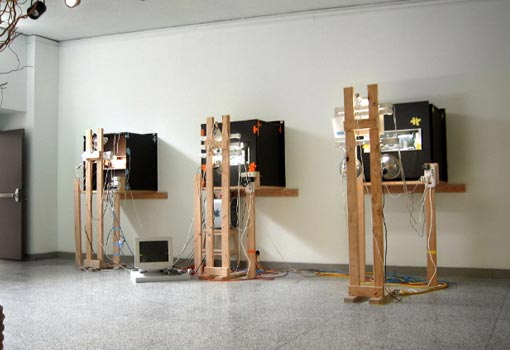 James Johnson's installation work consists of miniature interior spaces built from elements of photography, sculpture, and architecture. These rooms are viewed through an aperture in the wall hidden behind a transparent surface - large two-way mirrors, old sheets of glass with blurry imperfections, etc. The works are sometimes compared to dioramas, and they all contain evidence of their inhabitants. Each space, a seamless montage of photographs built in Photoshop, is printed on backlight film and then sliced and refolded into a three-dimensional architectural sculpture. The reflective surface of the glass implicates the viewer as a player or character in these scenarios.
Johnson earned his BFA from Marywood University (Scranton, PA) and and an MFA from Rochester Institute of Technology (Rochester, NY). He has exhibited in numerous venues, including the Samuel S. Fleischer Art Memorial, Arcadia University Art Gallery, the University of Buffalo Art Gallery and the George Eastman House. His work has also been reviewed in publications such as The Philadelphia Inquirer, The Philadelphia Weekly and The Philadelphia City Weekly. Johnson is currently assistant professor and chair of the Photography and Digital Arts Program at Moore College of Art and Design in Philadelphia.
Listen to a podcast interview with James Johnson.