Pittsburgh, PA
April 2 - June 28, 2007
Sculpture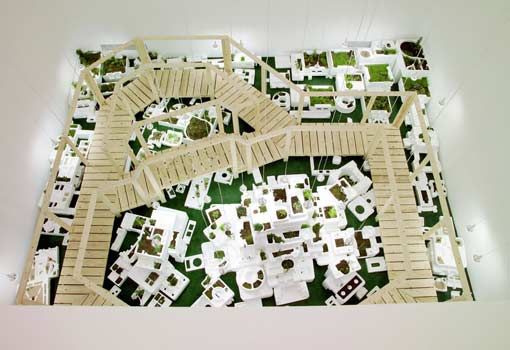 Carin Mincemoyer is particularly interested in the contrasting set of desires that we often expect the "natural," or non-human, world to fulfill. For various reasons, many people look to nature to find a sense of meaning in their lives. But in technologically developed societies that have gained mastery over the environment, nature provides the fodder for two contrasting fantasies: further domination over the earth, and making contact with the pure, unspoiled origins of our existence. Hence, we have activities like nature tourism, in which mass numbers of people travel in their cars to what they believe to be a more pure or unspoiled environment than their daily surroundings. The artist is also interested in the intersection between organic and man-made forms, how these two intertwine and what that intersection may look like in the future.
Mincemoyer received her BFA with a concentration in painting from Carnegie Mellon University and an MFA from the State University of New York at Buffalo. She has received numerous awards and honors including a Pittsburgh Foundation Individual Artist Award, a Pennsylvania Council on the Arts Individual Artist Fellowship and a Vermont Studio Center Artist Grant. She has exhibited her work in solo and group exhibitions at venues such as the Rochester Contemporary, d.u.m.b.o. arts center and the Andy Warhol Museum. Her work has been reviewed in numerous publications, including Sculpture Magazine, The Buffalo News, the Pittsburgh Tribune-Review and Pulp.
http://www.carinmincemoyer.com/