Lincoln, NE
October 1 - December 30, 2007
Ceramic Sculpture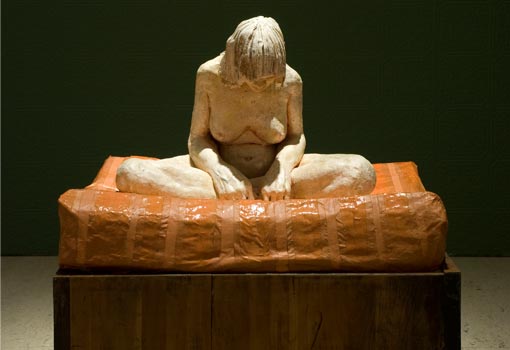 Through subtle distortion of form, exaggerated gesture and an emotional color palette, sculptor Caitlin Applegate emphasizes those parts of our bodies of which we are individually most conscious, enlarging or shrinking them to emphasize the awkwardness many of us feel in our own skin. Ranging from life-size to half-size, her sculptures raise feelings of isolation, distance, intimacy, voyeurism and empathy.
Applegate received a BFA in Ceramics and Printmaking from the University of Hartford's Hartford Art School and an MFA from the University of Nebraska-Lincoln's Department of Art and Art History. She has participated in large-scale public arts projects, including the Lincoln Art Council's Stories of Home Project, for which she created a narrative sculpture. The artist has exhibited nationally, and her work has been covered in publications such as Ceramics Monthly.
Listen to a podcast interview with Caitlin Applegate.
http://www.caitlinapplegate.com/