Portland, OR
October 2 - December 28, 2006
Ceramics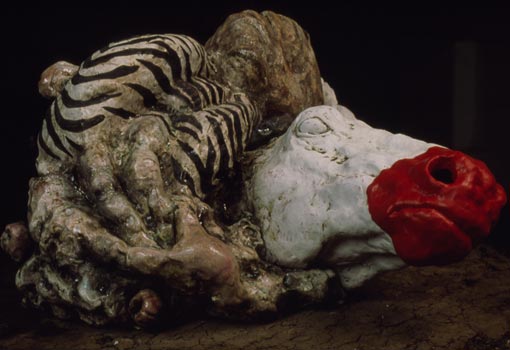 Roxanne Jackson is concerned with confronting the shadows of the unconscious and having a dialogue with the grotesque and discovering beauty in terror. The tenor of her work is macabre and emotional, and she deals with extreme axioms to dramatize the dualities of our nature. The contrasts she explores exhibit a breadth of emotions that express our psychological and spiritual maturation. The emotions Jackson focuses on are sometimes buried and inaccessible to most people, and they include pain, fear and separation. For the artist, confronting these emotions can serve as a catalyst that melts barriers to our development.
Jackson received her BS in Botany with a minor in Studio Art from Humboldt State University (Arcata, CA) and an MFA from the University of Nebraska at Lincoln. Jackson has shown her work in numerous venues, including the Carbondale Clay Center (Carbondale, CO), the Museum of Outdoor Arts (Englewood, CO) and at the Los Angeles Gallery (Los Angeles, CA). Her work has also been reviewed in publications such as Ceramics Monthly and The Aspen Magazine. Jackson's work will also be featured in the forthcoming book 500 Animals in Clay to be released by Lark Books Publications in 2006.
http://www.roxannejackson.com/