Brooklyn, NY
September 1 - November 28, 2006
Mixed Media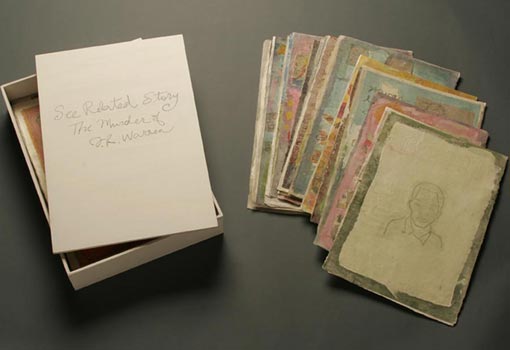 Rory Golden's "hanging books" formally refer to historic modes of racial or other hate-based violence. He cuts a single, large image into pages and then sews them back together as a series of accordions. These open expansively for display and then collapse into piles of sewn pages, allowing the entire image to be contained in one small box.
This process acknowledges the disfigurement and distortion that results from violence, while also addressing the healing that this acknowledgment may offer. Golden's recent artwork involves sexuality, race and violence and includes oil paintings, mixed media drawings and artists' books. All these works explore the nation's history of slavery and its fallout as well as racism and the impact of unacknowledged history in the present time.
For the past eighteen months, he has been researching the violent murder of J.R. Warren, a black gay man who was killed by two white teenage boys in rural West Virginia. In addition to a digital film, Golden is producing artwork that examines this incident.
Golden received his BA from Miami University in Ohio and an MFA from the University of Alabama. He has received numerous grants, including a Change Inc. Grant, the David Kooy Investments Grant and a Ministry of Education (Monbusho) Research Student Scholarship, which fully funded eighteen months in Japan for studying crafts and culture. Golden has exhibited his work widely in both solo and group shows at venues such as Pittsburgh State University and both the San Francisco and New York Public Libraries. The artist is represented by Vamp & Tramp Booksellers, Califia, Birmingham, AL.