Philadelphia, PA
July 3 - August 29, 2006
Painting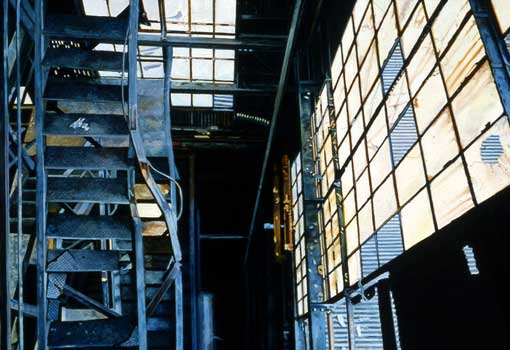 Like the French author Marcel Proust, Morgan Craig is also in search of lost time. While the taste of a Madeleine brought back memories for the French author, the redolence of congealed air, trapped within a factory's walls, serves as an impetus for remembrance for Craig. His distortions and alterations to the interiors of these the buildings he paints reflect how memory, an amalgam of fact and fiction, becomes time regained.
In Entertainment Views & News, Michael W. Sasser writes:
Craig paints places with a sense of care that imparts these deserted structures with a sense of endurance: they endured their human occupation and now lie in a state of decay. The ephemeral nature of these buildings is echoing with the footsteps of former dwellers, and is what keeps us captive viewers of the past. In the black windows and unlit rows of pipes and machinery, Craig draws a narrowing line of vision back into time.
The artist earned his BFA in Painting from the Tyler School of Art at Temple University and an MFA in Painting, from the University of the Arts in Philadelphia. The artist has exhibited his work nationally in both solo and group shows, and his work has appeared in several publications including American Art Collector and two issues of New American Paintings. Craig has also received a Pennsylvania Council on the Arts Fellowship for 2006.