Kansas City, MO
September 15 - November 15, 2006
Installation and Sculpture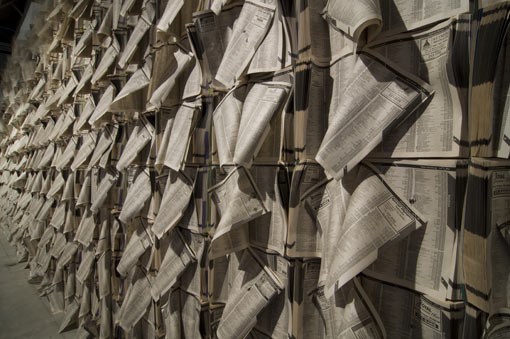 Rather than working in one particular medium, Matthew Dehaemers relies on his investigation of a particular history or issue to lead him to a particular material or combination of media, allowing inspiration to dictate his varied choices. For the artist, the process is as critical as the work itself: an important integral relationship exists between media and the context such as a house built from bread, a cable car constructed of woven rope and a schoolhouse erected from plastic tubing. In this regard, he is both an artist and a storyteller, and he uses the creative process to re-contextualize a concept into a visual story, illuminating a certain issue, space or place in time to his audience.
The artist received his BFA from Creighton University and an MFA from the University of Wisconsin, and he has received numerous awards and public art commissions. He has been awarded the Kansas Arts Commission Fellowship Award, the Joan Mitchell Fellowship and the Kemper Knapp Foundation Grant, as well as numerous residencies at institutions such as the Delaware Center for Contemporary Art, the Vermont Studio Center and the Kimmel Harding Arts Center.
http://www.matthewdehaemers.com/