St. Charles, IL
January 2 - March 29, 2006
Mixed Media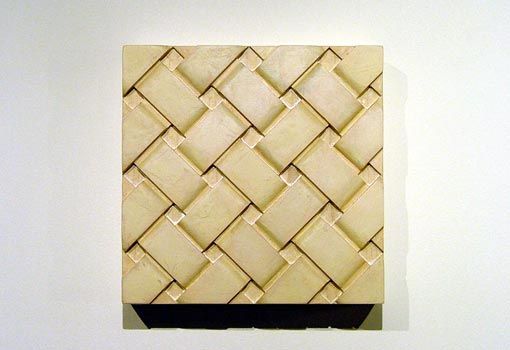 John Fraser's work explores formal and material involvement. Says the artist: "I have always felt free to move toward dimensional things as well, perhaps in combination and concert with site. Space, 'spaciality'/architectural concerns are of primary interest." The artist combines found objects and assorted materials and employs a variety of techniques, making his art difficult to categorize. Fraser's quiet and restrained vision results in refined, meditative works that contain an intensity of feeling in the seemingly simple, elegant, abstract forms.
The artist received his BA from Roosevelt University, Chicago, IL and an MFA from Northern Illinois University, DeKalb. Fraser has exhibited his work for over two decades, and he is represented by Roy Boyd Gallery, Chicago, IL, Scott White Contemporary Art, San Diego, CA, Cumberland Gallery, Nashville, TN, Bentley Projects, Phoenix, AZ and Anne Reed Gallery. The recipient of several Illinois Arts Council grants and an Arts Midwest/NEA Regional Visual Arts Fellowship, his work appears in numerous museums and public collections throughout the US, including in the Cincinnati Art Museum, Cincinnati, OH, the Mississippi Museum of Art, Jackson, MS, Deloitte & Touche, Citicorp Services and Saks Fifth Avenue.