Macon, GA
September 30 - December 28, 2005
Ceramic Sculpture / Drawing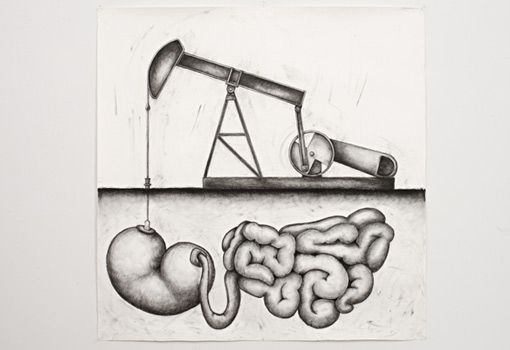 Zachary Hamilton earned his BFA from the School of the Art Institute of Chicago and an MFA from Cranbrook Academy of Art in Michigan. He has been an adjunct faculty member at Mercer University in Macon, GA and the University of Georgia in Athens. Hamilton has additionally worked as Assistant Preparator at the Cranbrook Art Museum in MI as well as a studio assistant for the UGA Studies Abroad Program in Cortona, Italy and an apprentice to sculptor William Ferrell. He spent the past summer as a resident artist at the Mesa Arts Center in Mesa, AZ. Hamilton's work has also been featured in numerous shows on both a national and international level.
Hamilton's recent body of work focuses on the creation of personal myth objects rooted in the archetypes of the unconscious. The artist creates objects derived from his memory and associations made between past events and places in his life. He is also venturing beyond the personal to examine universally familiar themes, symbols and objects. Says Hamilton: "By mapping out areas in the physical plane and building objects with temporary material, I will attempt to make metaphorical references to the paths our lives take and to themes such as temporality, birth, life and death."
http://www.gregoryhalpern.com/