Berlin, Germany
September 30 - December 29, 2005
Sculpture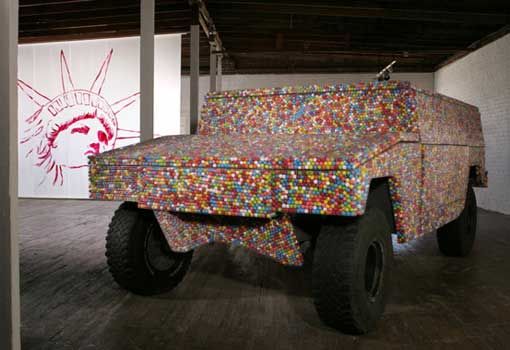 Heidi Hesse holds an MFA in Sculpture from The Ohio State University and a BFA from Arizona State University. Born in Germany, she grew up in South Africa and Germany before immigrating to the U.S. in 1982. Hesse is the recipient of several grants and awards, including the Arizona Arts Commission Artists Fellowship and the Arizona State University Excellence in Sculpture Award. Hesse was most recently Artist-in-Residence at Changdong National Art Studio, National Museum of Contemporary in Seoul, South Korea, and previously at Multiviseo Multimedia in Frankfurt, Germany. The artist's work has appeared in numerous solo and group shows, and her sculptures are included in both public and private collections, such as the Museum of Contemporary Art in Tucson.
Hesse explores the dynamics of expectation and responsibility inherent in the "inalienable rights" of "Life, Liberty and the Pursuit of Happiness." The artist is currently in the process of creating a series of works drawn from the writings of the Founding Fathers, work, she says, that "will further my American indoctrination." This series juxtaposes text and images in order to explore the contradictions that exist between the founding rhetoric and the reality of contemporary life in America.