California
June – August 2003
Painting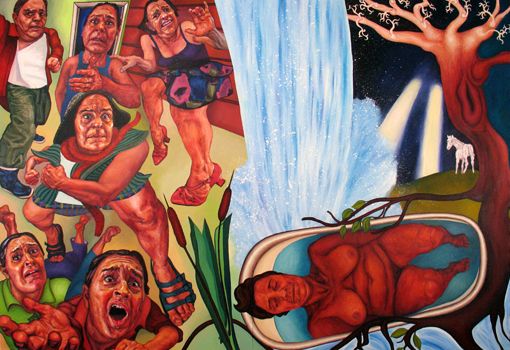 By elucidating human experience within the context of societal mores, Mahara Sinclaire hope to encourage acceptance and understanding of our emotional selves. All the faces in her work are self-portraits.
Mahara went to University of California, Davis, and recieved her MFA at California State University, Los Angeles.
Mahara currently teaches at Pasadena City College and Glendale Community College in an adjunct capacity. She also has guest curated in 2001 for Long Beach City College (Lazy Susan: LA Artists Paint) and the Downey Museum of Art (Carnivalesque). Her public art commission, "NoHo Tribute" is part of the Chandler Outdoor Gallery in North Hollywood, CA (mural).
http://www.maharasinclaire.net/