Rhode Island
July - September 2001
Installation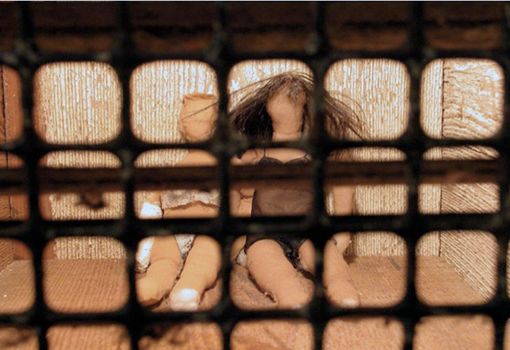 In Eric Conrads art, there is an emotional end to his sculptures and installations that centers on an experience of empathy with the dejected, the emptied, the cast off, and the vunerable.
Conrad's past and present interests have led him to study traditional figurative painting, sculpture, and theatre, while he uses this knowledge of history and technique to address issues of personal and cultural identity, and humaness. His work consists of conglomerations of fabric bodies, animal and human, reassembled and stitched together. They deal with power and relationships, tension and sensuality, intimacy and aloneness, violence and exuberance. Conrad leaves an imprint on the viewers memory and to be experienced fully in its absence to be seen in ones peripheral vision.
Eric Conrad lives and works in Lawrence, Kansas. He completed a BA in Mathematics and Fine Art from Kalamazoo College in Michigan and did his undergraduate study at the School of Art Institute of Chicago, and Rhode Island School of Design, where he received an MFA in Painting and Printmaking in 2000.