Illinois
May - July 2001
Installation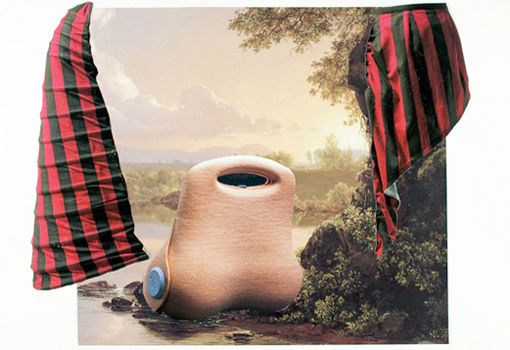 Barbara Kendrick has been honing her craft for many years and the recent work revels in this material pleasure along with more of the uncanny narratives for which she is known. There are two directions: small collages and expressionistic painting in watercolor and ink.
Kendrick's collage work uses found materials as a means of bridging the familiar with the unfamiliar, reality with fantasy, and allowing art to remind us of the tenuous grip on reason as a primary epistemological model. Collage's process of cutting and re-pasting from recognizable printed matter speaks to the ultimate contingency of all that we know. She appropriates her collage materials from a broad array of sources—art history books, fashion magazines, medical texts, engravings, personal photographs, esoteric encyclopedias, and myriad other material.
Barbara Kendrick recieved her B.F.A. University of Nebraska, Lincoln, NE, and her M.F.A. Ohio State University, Columbus, OH.
http://www.barbarafkendrick.com/