Kentucky
May - July 2000
Sculpture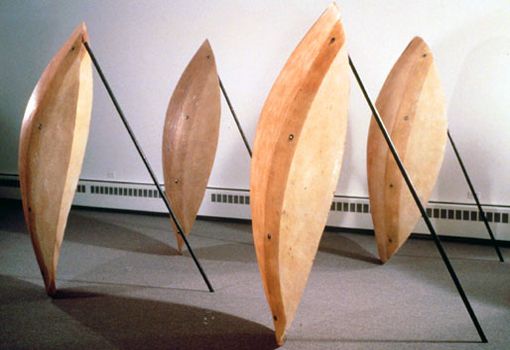 Imi Hwangbo received her B.A. in Studio Art from Dartmouth College. She received her M.F.A. in Sculpture from Stanford University, where she studied with the Bay Area Expressionist painter and sculptor Nathan Oliveira.
Hwangbo's work is a series of three-dimensional drawings based on the imagery and symbolism of Korean decorative arts. These pieces are based on the intense patterns and vibrant color schemes of Korean wrapping cloths, called pojagi. These four cornered cloths, which are used for wrapping, carrying, or covering objects, are often decorated with geometric patterns and floral motifs.
The significant patterns and colors of pojagi cloths recall a tradition of folk beliefs in a living and powerful landscape. The iconography features flowers, animals, and features of the natural landscape that are associated with protection from harm and desires for wealth, longevity, and fertility. Hwangbo's work explores the repetitive gestures of decoration as a visualization of desire and obsession.