Jamaica
June 2000
Batik/Installation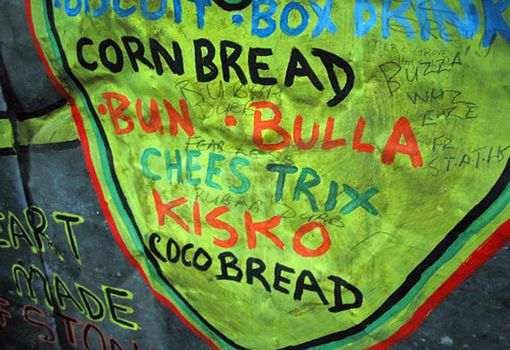 Dawn Scott is a Jamaican textile artist and interior designer who is best known for her realist batik paintings and, since the 1990s, her innovative store and interior designs for the local and tourist markets.
Scott's work effectively brings the physical and cultural environment of the Kingston inner cities into the "high culture" space of the NGJ. It consists of a spiral-shaped "zinc-fence", made from recuperated corrugated metal and lumber.
Her installation, "A Cultural Object", presents a provocative critique of the forces that, according to Scott, trap poor people into their marginalized socio-economic position, including the escapist nature of much of the popular music, poor dietary habits, self-deprecating beauty practices such as skin-bleaching, socially counterproductive attitudes towards women and sexuality, disempowering religious beliefs, partisan political violence, and, ultimately, mental illness and social alienation. Much of its effect derives from its extreme realism: the street person sculpture in the centre was made from a live cast and almost every detail of the work was based on something that then existed in Kingston, which Scott had documented photographically.