California
April - June 2000
Sculpture/Installation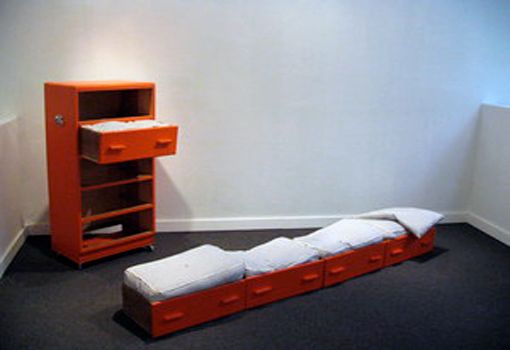 Claudia Tennyson is a Bay Area artist who received her MFA from California College of the Arts in Oakland, specializing in textiles, sculpture and installation. She received an Arts Link Collaborative grant and residency in Prague, Czech Republic and has been a San Francisco MOMA SECA award finalist.
Claudia Tennyson's work has been one of intersections—fine art and craft, solitary practice and social concern, found objects and the handmade. Her latest body of work departs from as well as forwards some ideals of her long-term Repair Project in which she fixed donated items that were broken or neglected and returned them to their original owners as reconceived objects, some functional and others delightfully absurd. In the Repair Project, Tennyson utilized common craft techniques like taping, knitting and sewing as her means of sculptural resuscitation.
The spirit of her actions was one of preservation, nurturing, care for what is normally discarded, do-it-yourself, anti-consumption and pro-recycling, though instead of salvaging everyday objects, Tennyson attempts to salvage personal well-being within a world of nebulous and seeming impending doom. The works are ways for the artist herself to cope and to assist viewers in confronting our current uncertainties in geopolitics, the environment and individual safety.