Bemis Center's residency program plays an integral role in advancing creative practices and careers in the arts. The work of former residents Leah Rosenburg, Stephanie Syjuco, and Risa Puleo—and nearly 900 since our founding in 1981—embodies the impact of their time at Bemis.
Patrons-in-Residence directly help fund the annual activities of the international residency program, including the notable administrative, technical, and financial resources each artist and curator receives while at Bemis. Members at this level nurture the lives and careers of artists and curators from around the world so they may continue to infuse our community and the world with new art and ideas.
Stephanie Syjuco, 2013 Bemis Artist-in-Residence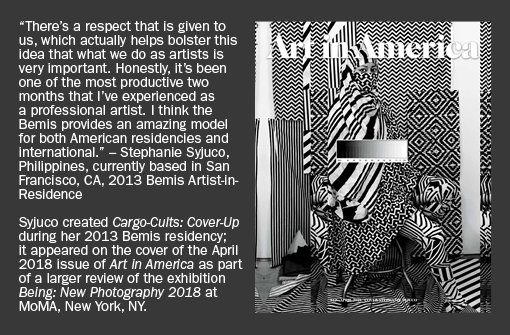 Leah Rosenberg, 2015 Bemis Artist-in-Residence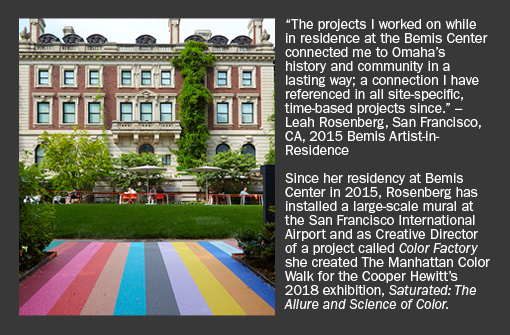 Risa Puleo, 2017 Bemis Curator-in-Residence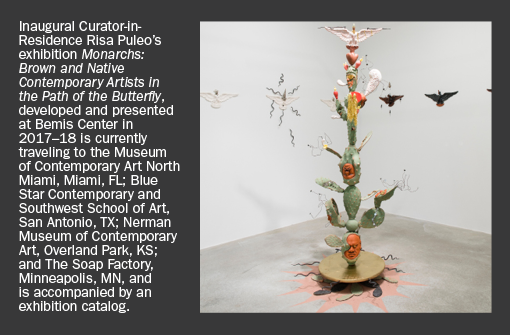 PATRONS-IN-RESIDENCE RECEIVE:  
Exclusive opportunities to engage artists, including private studio tours throughout the year
In-depth information about each artist-in-residence before, during, and after their residency
Invitations to gatherings and events in major U.S. cities with past Bemis Center residency and exhibition artists, as part of Bemis Center's new Alumni Program (launching November 2018 in NYC)
Recognition in Bemis Center's annual Year in Review inside the summer edition of Time + Space and in promotional materials for each public Open House / Open Studios
Plus, Contributing-level membership benefits, including two tickets to the Benefit Art Auction

PATRON-IN-RESIDENCE ANNUAL DUES: $3,000
$2,760 tax-deductible 
Annual dues are equivalent to the stipend each artist receives while in residence.
Join online or contact Ellie Novak, Development Director at 402.341.7130 x 16 or ellie@bemiscenter.org.