In a concerted effort to help slow the spread of COVID-19, Bemis Center galleries are temporarily closed and upcoming public programs have been postponed. New dates for upcoming programs will be announced as soon as possible here and via email and social media.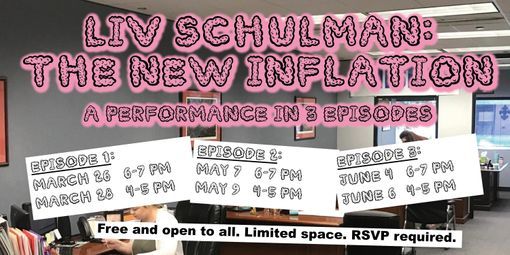 Episode 1                     Episode 2                 Episode 3
March 26 | 6–7 PM        May 7 | 6–7 PM        June 4 | 6–7 PM 
March 28 | 4–5 PM        May 9 | 4–5 PM        June 6 | 4–5 PM
Free and open to all. Space is limited.
RSVP required. 
Developed, written, cast, produced, and filmed in Omaha, The New Inflation, a performance in three episodes that explores the multivalence of inflation, premieres at Bemis Center where it is presented on March 26 and 28, May 7 and 9, and June 4 and 6. Join us in this adventure by reserving tickets for all three episodes.

This project is the first North American presentation of work by Paris-based Argentinian artist Liv Schulman, winner of the 20th edition of Fondation d'entreprise Ricard Prize (2018). The New Inflation is an ambitious live performance that layers several narrative systems. Enlisting a cast of six local actors, a set of uniforms, staged sculptures, lecturing, and a funny-depressing form of stand-up comedy, Schulman explores inflation as a mythology that relies on the manufacturing of crisis as a resource, of error as opportunity, and of devaluation as a means of extraction. Inflation creates new forms of relationships, new interior designs, new wallpapers, new entanglements in language, and new fantasies as well as new markets. The myth of inflation becomes a link between one and the universe.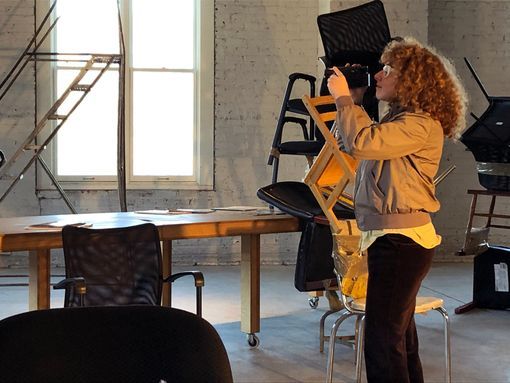 Wikipedia explains that the word "inflation" means both a rise in the general price level of goods and services and the supercooled expansion of space in the early universe. The inflationary epoch lasted between 10−36 and 10−32 seconds after the conjectured Big Bang singularity, during which the Universe expanded by a factor of at least 1026. Since then, the universe has continued to expand, at a slower rate. But what took place at 10−36 seconds that keeps happening?
In Argentina, everyone lives with inflation. The phenomenon orchestrates daily life and world views. Inflation is intrinsically linked to Argentina's relation to the United States. It sustains national turmoil, and it is very fierce. Inflation fuels a total ideology with its own temporal sequences and consequences, and twisted narratives of the past and future.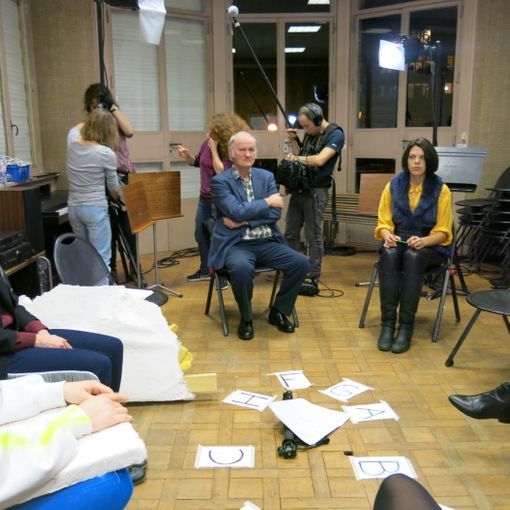 The New Inflation straddles different heterotopias such as customs offices at a border crossing, the knowledge constellations produced by informal economies, the successive and ongoing conquests of the Americas, and the emergence of non-logic logic as a currency. It depicts a disenchanted economy founded on the principles of error and dependency… an economy that casts singularity as a refugee of the universe. The performance's narrative relies on global mistakes as a form of positivity, presenting an ideology that mobilizes error as opportunity, as signifiers slide into one another via similitude. A host of stories converge towards a possible reading of a form of economy that is as global as it is personal. The universe and its expansion are new names for singularity.
ABOUT LIV SCHULMAN'S WORK
Schulman focuses on the ability of language to affect a body. Through her filmed fictions, theatrical performances, lectures, and novelistic writing, she creates characters and collectives who utter logorrheic speeches, interchangeable ghosts ventriloquized by disarticulated monologues, borrowing from the vocabulary of art, liberal economics, Marxist critical theory, or psychotherapy, trying to recreate affects in the economy under which we live. The main resources for her work are the different translations and adaptations of language through the instrumental use of a body. Free from its receiver, detached from its speaker, delivered in inhospitable situations, Schulman tries to see if language allows for a reorganization of a system.
Curated by Sylvie Fortin, Bemis Center Curator-in-Residence, as part of her research into the currencies of hospitality.
---