LOW END is Bemis Center's new music venue located in its 25,000 square foot basement level. This venue is an integral part of the organization's new Sound Art + Experimental Music Program, which launched in May 2019 with generous support from The Andrew W. Mellon Foundation. The unique artist-designed space includes custom seating, theatrical lighting, an anamorphic perspective stage, and industrial-grade sound equipment.

LOW END features free live shows by local, national, and international sound artists, composers, and experimental musicians. These performances aim to not only build greater appreciation and new audiences for experimental forms of music but also to liberate the artists on stage to take risks and present truly avant-garde work.
LIVE @ LOW END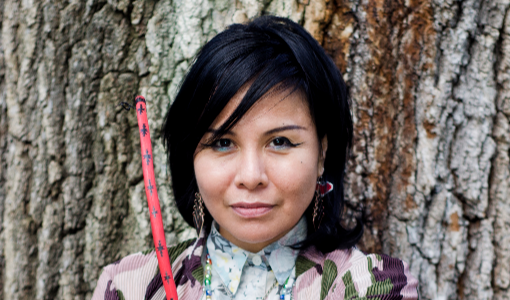 A CONCERT WITH LAURA ORTMAN
November 14 | 7–8:30 PM
Laura Ortman (White Mountain Apache) is a Brooklyn, NY composer, musician, and artist. She plays violin, Apache violin, piano, electric guitar, keyboards, pedal steel guitar, sings through a megaphone, and makes field recordings. Ortman's music is known for compositions that alternate lyrical intimacy with layered improvisation, often experimenting with four-track tapes and remixing her own audio catalog in an evolving dialogue with herself.

FREE ADMISSION 
All performances at LOW END are free thanks to our friends at The Andrew W. Mellon Foundation. 

RSVP

Additional performances at LOW END to be announced soon.