VIRTUAL Exhibition Opening + Performance: Intimate Actions
Thursday, December 10, 2020 8:00 pm - 9:00 pm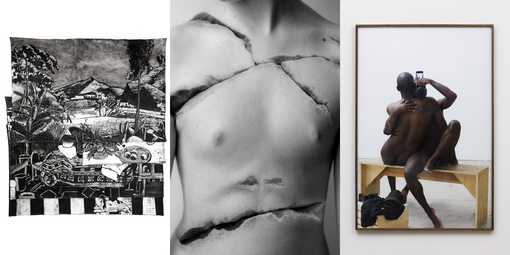 Description:
Stream live at twitch.tv/bemiscenter and facebook.com/bemiscenter.

Curator Rachel Adams will introduce each of the exhibitions followed by a performance by musician and artist David Hurlin as part of Joey Fauerso: Inside the Spider's Body and a Q + A with Adams, Farerso, and Hurlin.

Intimate Actions
December 10, 2020–February 27, 2021
Maria Antelman: Soft Interface
Joey Fauerso: Inside the Spider's Body
Paul Mpagi Sepuya: Drop Scene

Curated together under the rubric of Intimate Actions, these three solo exhibitions are centered on the theme of intimacy and how it enters into representations of the body, one's connection to space and surroundings, and our relationships. Joey Fauerso interweaves personal experiences in relation to our own humanity through concepts related to gender, family, and contemporary culture. Paul Mpagi Sepuya's work is rooted in an atypical type of studio portraiture, combining elements of storytelling through the use of camera placement, mirrors, curtains, studio workprints, and person to person contact. Maria Antelman's practice focuses on the human experience, with this exhibition focusing on our relationship to the past and our connection to the natural environment. Together, the three artists call to mind the expansiveness that is humanity, and through a variety of lenses, offer intimate views of strength and fragility.

The performance, part of the exhibition Joey Fauerso: Inside the Spider's Body, continues an ongoing collaboration between artist Joey Fauerso, and musician and artist David Hurlin. Fauerso and Hurlin grew up together in a Transcendental Meditation community in rural Iowa. Both are interested in physical transcendence and the creative possibilities of destructive acts. During Hurlin's performance, Fauerso's installations constructed of wood, steel, and ceramic elements become sonic tools for creating complex and vital rhythms through the breaking, cracking, and destruction of the material forms.

David Hurlin received his BFA in photography and tabla of the Hindustani classical music tradition from Maharishi International University (MIU) including seven months abroad in India studying with tabla master Anup Ghosh. His photography took him around the United States photographing his favorite poets (James Tate, Charles Wright, and Cole Swenson, to name a few) which informed his own reading and continued writing. His first book of poems "Zero Gravity Funk Libido" was released in 2019 by Blue Light Press in San Francisco. Currently, Hurlin is a professional drummer and percussionist. Drummer for Apocalypso Tantric Noise Choir, Soulmath, Elizabeth Moen and most recently with Mike Dillon Band and Nolatet. He has toured all over the country and is in high demand, both as a performer and session drummer. In addition to touring and recording, Hurlin is working on compositions and collaborations which lean more toward sound art, sculpture, installation, and performance art. He is currently pursuing his MA in art at MIU.

Intimate Actions is supported, in part, by The Andy Warhol Foundation for Visual Arts; Art Bridges; Douglas County, Nebraska; Nebraska Arts Council and Nebraska Cultural Endowment; and Omaha Steaks.

Images (left to right):
Joey Fauerso; Genre Painting, 2020; Acrylic on canvas; 120 x 110 inches; Courtesy of the artist.
Maria Antelman; Forever Rock, 2020; 60" monitor; Dimensions variable; Courtesy of the artist and Melanie Flood Projects, Portland, OR.
Paul Mpagi Sepuya; Figure (0X5A0918), 2019; Archival pigment print; 75 x 50 inches; Edition 1 of 5; Courtesy of the artist and Vielmetter Los Angeles; Photo: Jeff McLane.