VIRTUAL @ LOW END | Glow in the Dark
Thursday, November 12, 2020 8:00 pm - 9:00 pm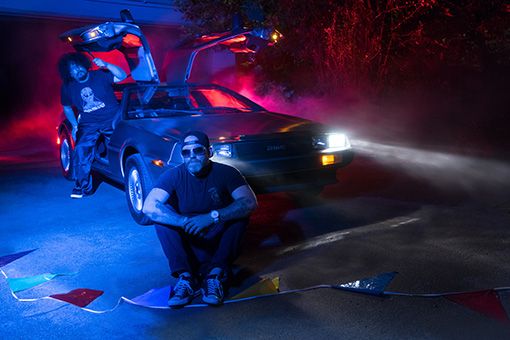 Description:
Join us for a live virtual performance with electronic duo Glow in the Dark, November 12, 2020, at 8 PM CST.

RSVP
STREAM on Facebook Live or Twitch (Twitch account not required.)

High energy duo Glow in the Dark has been making their presence felt since 2016, crafting dark and dancy tunes with catchy vocals, piles of vintage synths, pounding drum machines, and modular synthesizers. Glow in the Dark blends modern synth wave, new wave, 80's new romantic, pop, and dance/electronica with eccentric live shows, synchronized to warped visuals and interactive cinematics. Glow in the Dark's music can be found in music videos, streaming, and retail sites, and showcased in film shorts and feature-length movies. Glow in the Dark has performed alongside 80's icon Corey Feldman and 90's big beat superstars The Crystal Method. In 2019, Glow in the Dark headlined the Omaha Summer Arts Festival followed by receiving an award for Best Experimental/EDM artist at the 2019 Omaha Entertainment Awards. Glow in the Dark draws on the synthetic sound and visual style of producer / filmmaker Aaron Gum paired with Lawrence Deal; a psychotherapist by trade whose lyrics explore human behavior. Despite the challenges of 2020, Glow in the Dark is preparing to release their first full-length album, "Teenline," on 10.10.2020, an album 3 years in the making. Find out for yourself why Glow in the Dark has been dubbed "Electro-rock kingpins" by music journalist Lazy-i and "Digital Daredevils" by Omaha Magazine.