Liv Schulman: The New Inflation | Episode 1
Thursday, June 4, 2020 6:00 pm - 7:00 pm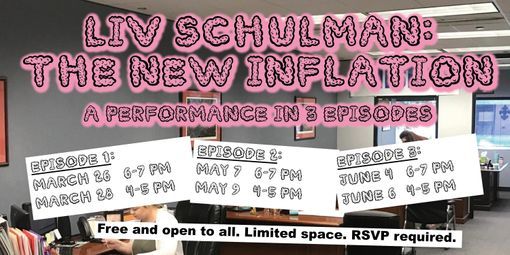 Location:
Bemis Center | 724 S. 12th Street
Description:
Developed, written, cast, produced, and filmed in Omaha, The New Inflation, a performance in three episodes that explores the multivalence of inflation, premieres at Bemis Center where it is presented on March 26 and 28, May 7 and 9, and June 4 and 6. Join us in this adventure by reserving tickets for all three episodes.

This project is the first North American presentation of work by Paris-based Argentinian artist Liv Schulman, winner of the 20th edition of Fondation d'entreprise Ricard Prize (2018). The New Inflation is an ambitious live performance that layers several narrative systems. Enlisting a cast of six local actors, a set of uniforms, staged sculptures, lecturing, and a funny-depressing form of stand-up comedy, Schulman explores inflation as a mythology that relies on the manufacturing of crisis as a resource, of error as opportunity, and of devaluation as a means of extraction. Inflation creates new forms of relationships, new interior designs, new wallpapers, new entanglements in language, and new fantasies as well as new markets. The myth of inflation becomes a link between one and the universe.

Free and open to all but space is limited.
RSVP required

Episode 1:
March 26 | 6–7 PM
March 28 | 4–5 PM

Episode 2:
May 7 | 6–7 PM
May 9 | 4–5 PM

Episode 3:
June 4 | 6–7 PM
June 6 | 4–5 PM

Curated by Sylvie Fortin, Bemis Center's Curator-in-Residence, Liv Schulman: The New Inflationis organized by Bemis Center for Contemporary Arts, presented in collaboration with the Fondation d'entreprise Ricard, and supported by Etant Donnés Contemporary Art, a program developed by FACE Foundation and the Cultural Services of the French Embassy in the United States, with lead funding from the French Ministry of Culture and lnstitut Français-Paris, the Florence Gould Foundation, The Ford Foundation, the Helen Frankenthaler Foundation, Chanel USA, the ADAGP, and the CPGA.

Additional support provided by Nebraska Arts Council and Nebraska Cultural Endowment and Omaha Steaks.

The Curator-in-Residence program is supported, in part, by Esther and Dan Brabec and Carol Gendler.