Urban Design Lab Presentation
Tuesday, August 5th | 6:00 - 8:00 pm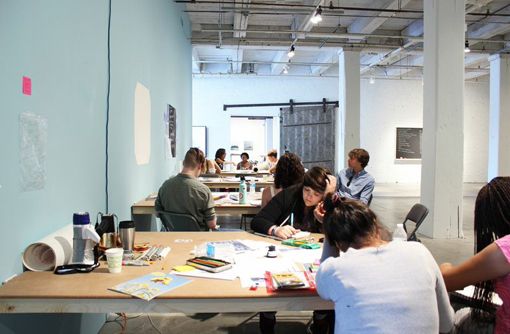 Location:
Bemis Center for Contemporary Arts | 724 S. 12th Street | Omaha
Description:
How do you relate to the space and people around you as a local? How might you relate differently if you were a tourist? In our Urban Design Lab, teen researchers have been posing and answering these kinds of questions, and by doing so, they're shedding new light on the nature of Omaha's landscape. They've also been challenged to create a printed guide of the city and generate independent projects through map-making, pamphlets and reclaimings of other touristic outcomes. Join us for their final presentation and learn about the ways they've addressed questions pertaining to our collective urban environment.

About Urban Design Lab
Chloë Bass and Teal Gardner, two Bemis Center's Artists-in-Residence, are collaborating with 20 local researchers to shed new light on the nature of our urban landscape. Each of the researchers was recruited from a local high school.

Participants in the Lab are conducting field research in various parts of the city and synthesizing that data here in this space, which consists of two parts: The Department of Local Affairs and Reading the City.

Created by Bass, the Department of Local Affairs is an ongoing project that involves collecting crowd-sourced information about an area from the people who pass through that location regularly. With the data gathered by The Department of Local Affairs, Bass encourages participants to rethink their sense of place based on their experience of an ongoing everyday, rather than through outdated historical information and advertisement's highest hopes. Bass's Department provides visitors to Omaha with useful, practical information as well as with more poetic interpretations of what the city is or means.

As Omaha agents for The Department of Local Affairs, the lead researchers are responsible for framing a research project and then collecting information about the city, which is included in a printed guide to Omaha. Researchers are also supported to create additional independent projects through map-making (traditional and radical), pamphlets and reclaimings of other standard touristic outcomes.

Gardner's contribution to the Urban Design Lab is Reading the City, a platform or methodology in which the researchers are meeting with various artists and urban design experts in the city and making forays into the urban environment equipped with the recording tools (audio, photo, video, notebook, memory) necessary to capture and reproduce real and imagined elements of city life. With data in hand, the researchers will return to the Urban Design Lab to develop, as an intentional form of play, new tools and bodies of work, which are offered to other visitors and participants in this space.

Taken as a whole, the Urban Design Lab provides deep, media-rich data about the city in which we live, as well as a new synthesis about the meaning of that data. As a place where new ideas and work are created, the Lab also echoes the ongoing creative processes that are at the heart of the Bemis Center's internationally-recognized artist residency program.