Alternate Currents Panel Discussion: Environmental Justice
Thursday, August 20, 2020 7:00 pm - 8:00 pm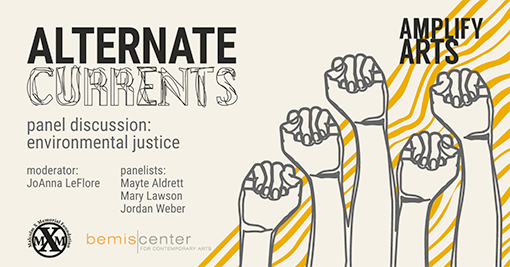 Description:
The Bemis Center is partnering with Amplify Arts to present Virtual Alternate Currents, a panel discussion on environmental justice.

From Amplify Arts:
"Amplify's next virtual Alternate Currents panel discussion on Thursday, August 20th from 7-8 PM brings together activist, Mayte Aldrett; artist, Jordan Weber; and Program Coordinator at the Union for Contemporary Art, Mary Lawson for candid discussion about environmental racism in Omaha and creative activist practices that respond through intervention or public demonstration.

Moderated by Board Vice President of Malcolm X Memorial Foundation, JoAnna LeFlore, this discussion is presented in partnership with Malcolm X Memorial Foundation and Bemis Center for Contemporary Arts."

RSVP for the free event.

Alternate Currents opens space for conversation, ideation, and action around national and international discussions in the arts that have a profound impact at the local level. Alternate Currents exists both on- and off-line in the form of a dedicated online resource and panel discussion series. Learn more about Alternate Currents and the panel topic.

Free and open to all. Virtual programming is presented with the support of the Nebraska Arts Council and the Nebraska Cultural Endowment.