LIV SCHULMAN: THE GOBERNMENT VIRTUAL ARTALK + Q&A
Thursday, May 28, 2020 12:00 pm - 1:00 pm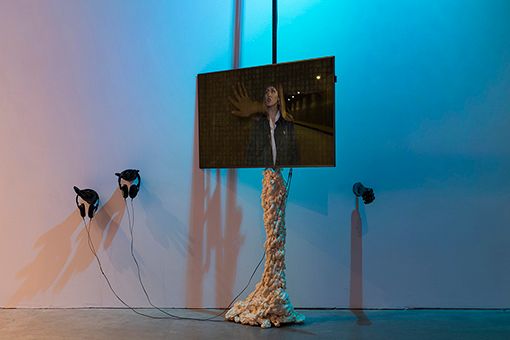 Description:
Join artist Liv Schulman and Bemis Center Curator-in-Residence Sylvie Fortin for a virtual-but-lively conversation around Schulman's The Gobernment, an exhibition that speculates on a realm where women, lesbian, and genderqueer artists defined the trajectory of twentieth-century art. The six-channel video installation elaborates on the work and destiny of unconventional and often forgotten artists who lived in Paris between 1910 and 1980. It welcomes us into a cosmopolitan, desiring, and delirious world where the personal and the political tie artists together, creating constellations of emotion and influence.

This conversation is a unique opportunity to learn about the histories and strategies at play in the exhibition, to catch a glimpse of the curatorial process, and to voice your questions.

This event will be presented live online via Zoom and Facebook Live. Registrants will receive access instructions and the Zoom link via email on May 28. Those who wish to view via Facebook Live do not need to preregister through Eventbrite; simply visit Bemis Center's Facebook page at the start time. The recorded lecture will also be made available on Bemis Center's Facebook page following the live event.

Radically reconfigured for its presentation at Bemis Center, Liv Schulman: The Gobernment was conceived with the support of an ADAGP-Villa Vassilieff grant, in partnership with Bibliothèque Kandinsky, MNAM-CCI, Centre Pompidou. The exhibition is sponsored, in part, by Douglas County, Nebraska; Nebraska Arts Council and Nebraska Cultural Endowment; Omaha Steaks; and Streck. It. The Curator-in-Residence program is supported, in part, by Esther and Dan Brabec and Carol Gendler.