Liv Schulman: The Gobernment – Episode 6
Thursday, May 21, 2020 10:30 am - Wednesday, May 27, 2020 11:59 pm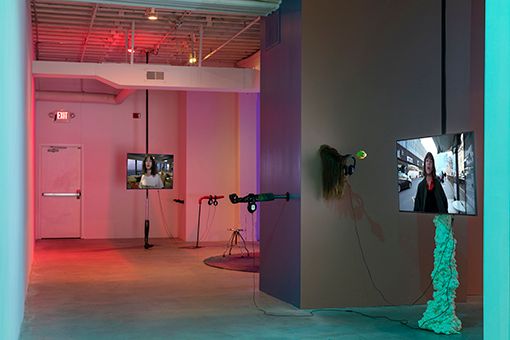 Description:
Episode 6, 8:54 minutes, French with English subtitles
This episode takes place in Antoine Bourdelle's former studio, now inhabited by four of his ex-students, Irène Codréano, Hedwig Woermann, Germaine Richier, and Vera Mukhina. How are artistic identities impacted by national or nationalist representations? How do gender and nationalist ideology negotiate? How does the nation co-opt women artists, using their promotion as propaganda? What affects do nationalist ideologies and totalitarian systems produce?

Watch Episode 6 now.

The six-channel installation version of Liv Schulman's The Gobernment was scheduled to open at Bemis Center for Contemporary Arts on March 19. We hope to welcome you into our galleries soon (and are extending the exhibition through September 19, 2020). Until then, we are releasing one episode a week at vimeo.com/bemiscenter, for one week only, followed by a Virtual ARTalk with Schulman and the exhibition curator, Sylvie Fortin, on May 28.

April 16–22: Episode 1
April 23–29: Episode 2
April 30–May 6: Episode 3
May 7–13: Episode 4
May 14–20: Episode 5
May 21–27: Episode 6
May 28: Liv Schulman: The Gobernment Virtual ARTalk

Curious about the installation? Follow us on Facebook, Instagram, and Twitter for views of the
exhibition.

Liv Schulman: The Gobernment is a six-episode video installation that imagines the work and destiny of unconventional and often forgotten women, lesbian, and genderqueer artists who lived in Paris between 1910 and 1980. The Gobernment asserts a speculative realm for them to defy the narrow phallocentricities of twentieth-century art to design their own expansive legacy. The work plunges us into a desiring and delirious world where the personal and the political draw artists together, creating webs of affect and influence that elude discipline, time, territory, and control. The exhibition presents jostling stories of resistance where images, thoughts, languages, and sensations converge. We encounter diverse forms of accommodation and living agreement along pathways of mobility and exile propelled by defiance.

Invented artistic movements and slippery confessions confront the ills of nationalism and
totalitarianism. Today, Schulman's narrative insistence on the self-determination of bodies and the irrepressibility of language in defiance of power is both compelling and urgent.

To learn more about the exhibition, download the Gallery Guide at bemiscenter.org/gobernment.

Liv Schulman: The Gobernment was conceived with the support of an ADAGP-Villa Vassilieff grant, in partnership with Bibliothèque Kandinsky, MNAM-CCI, Centre Pompidou. It was radically reconfigured for its presentation at Bemis Center, curated by Sylvie Fortin, Bemis Curator-in-Residence.

Liv Schulman: The Gobernment is sponsored, in part, by Douglas County, Nebraska; Nebraska Arts Council and Nebraska Cultural Endowment; Omaha Steaks; and Streck. The Curator-in-Residence program is supported, in part, by Esther and Dan Brabec and Carol Gendler.