Handmade Electronic Music | Hardware Hacking Workshop
Saturday, September 7, 2019 1:00 pm - 3:00 pm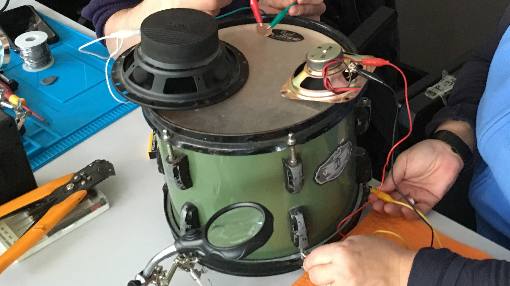 Location:
Bemis Center | 724 S. 12th Street
Description:
Speaking Sound Program Series

Nicolas Collins will guide workshop participants through a series of simple sound-producing electronic construction projects that fill gaps in today's computer-centric world of music production. Projects will include a modest synthesizer using nothing more than a battery, loudspeaker and clip leads; a contact mic from amplifying acoustic sounds, and a coil pickup that sniffs out the electromagnetic fields that surround us. Technical background is not required.

Workshop participants should bring*:
one loudspeaker, 10cm diameter or larger (raw speaker, or enclosed in a cabinet/box, not a powered speaker – bigger is better!)
a soldering iron (lightweight, fine point)
hand tools (diagonal cutters, wire strippers, a knife, etc.)
one nine-volt battery

Nicolas Collins is an artist, the Editor-in-Chief of the Leonardo Music Journal, and a Professor in the Department of Sound at the School of the Art Institute of Chicago. His book, Handmade Electronic Music – The Art of Hardware Hacking (Routledge), has influenced emerging electronic music worldwide.

Free and open to all.

RSVP

*Contact us at exhibitions@bemiscenter.org if you would like to participate but are unable to bring these items.

The Speaking Sound program series is supported, in part, by Humanities Nebraska and the Nebraska Cultural Endowment. Additional support provided by Jamie and Ted Friedland.