Old Market Flock House Summer Programming
Through August 16th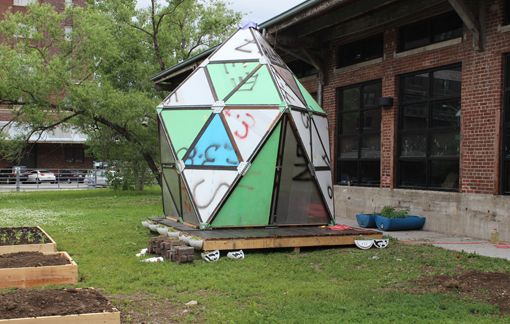 Location:
Bemis Center for Contemporary Arts | 724 South 12th St | Omaha
Description:
Heather Davis: Fri., June 6th:
Using her experience in the Flock House as a point of departure, Heather is working on a chapter focusing on Mary Mattingly's work for her forthcoming book.

Dwayne Brown: Sat., June 7th:
Dwayne is writing an article for Edible Omaha Magazine chronicling his experience in the Flock House and also considering how the the structure's gardens might provide sustainable food for future inhabitants.

Amanda DeBoer: Tues., June 17th – Fri., June 20th:
An avant garde opera singer who makes sound poetry, Amanda is using new material she developed at The Union for Contemporary Art to create sonic landscapes.

Carol Bicak: Sat., June 21st:
A reporter with the Omaha World-Herald, Carol is using her stay in the Flock House both to write an article about her experience and work on her forthcoming children's book for the Henry Doorly Zoo in Omaha.

Kim Carpenter: Tues., June 24th:
Kim will oversee four ten-year-old girls who will run a lemonade stand from the Flock House. They will donate their proceeds to the Nebraska Humane Society.

Neil Griess: Fri., June 27th - Sat., June 28th:
Neil will create a sound exhibition by layering recordings of the Flock House installation and interviews with people who helped during the design build process. The sound will then occupy the space during his stay.

Nicholas Jacobsen: Tues., July 1st - Wed., July 2nd:
Nicholas invites the public to join him for meditation and yoga Tuesday in the afternoon and Wednesday in the morning. There will also be a musical performance Tuesday night starting at 8:00 pm. He invites visitors to experience the Flock House's space and what Nicholas has accomplished with his site specific installation.

Pierre Kenal Louis: Sat., July 5th – Sunday, July 6th:
Pierre will use the space to paint and draw whatever he is inspired by within the Flock House and his perception of it. He will also record himself the entire time to document his stay.

Amanda McDonald Crowley: Mon., July 7th - Wed., July 9th:
Join Amanda, the Bemis's consulting curator and artistic director, as she shares her bright green thumb to provide advice, guidance and free consultations about community gardening.

Peter Langwith: Thurs., July 10th - Thurs., July 24th:
In addition to using the Flock House as a painting studio, Peter is inviting local musicians to join him for band practice and concerts. Come and rock out with Peter in this unique live music venue!
Concert Schedule:
Thurs., July 10th:
4:00 pm: Joel Hanson (solo acoustic 12 string guitar)
5:00 pm: Kataphonics (2 Piece improv metal)
Fri., July 11th:
5:00 pm: Jon Jerry (solo acoustic guitar and vocals)
Sat., July 12th
7:00 pm: Purusa (live electronic from Kansas City)
8:30 pm: Linear Symmetry (2 piece live electronic)
Thurs., July 17th
5:00 pm: Anne Frankenstein (rock band with folk influences)
Fri., July 18th
5:00 pm: Craig Mustard (live looping)
Tues., July 22nd
5:00 pm: B's Knees (sister duet)

Paige Reitz + Teal Gardner: Fri., July 25th – Thurs., July 31st:
Paige and Teal will conduct and record interviews with past and current Ethel Mae residents, people who lived in a communal living situation in Midtown Omaha. They will work together to complete collaborative projects as well as produce small gathering events. In so doing, the duo will work through some of the failed utopic ideas that occurred around the housing project.
Events:
Mon., July 28th, 10:00 am - 10:00 pm
Communal activities + Kirtan (devotional group singing)

Play Lab: Sat., Aug 2nd, 10:00 am - 6:00 pm
Both the interior and exterior areas of the Old Market Flock House will serve as space for Play Lab, a free and open play workshop for kids of all ages. Materials and support will be provided for both kids and adults to engage in creative, spontaneous play. Play Lab is organized by current Bemis Center Artist-in-Residence Teal Gardner.

Laura Carlson: Mon., Aug. 4th - Tues., Aug. 5th:
During her time in the Flock House, Laura will be reflecting on library workshops she led around Social Studies, her recent solo exhibition at the Dale W. Clark Library in July, and facilitating interviews with several work shop participants about their experiences.

Cynthia Gehrie: Wed., Aug. 6th – Sat., Aug. 16th
Cynthia will use the Flock House as studio and exhibition space and conduct tours with local art and nature enthusiasts. She will also be doing a project called Palimpsest and invites friends, members of her Iowana Farm Community Supported Agriculture group and the public to consider the idea of Flock Houses by documenting and translating their ideas into a layered expression. The Flock House is open to the public to participate in the project as contributors and to make art together around the idea of the structure. This includes: planning, drawing, curation, stamp making and using stamps, stencil making and using stencils, documentation, resist ink drawing, writing and reflecting.

For Old Market Flock House updates and to read about the participants' experiences, visit our Tumblr account here.