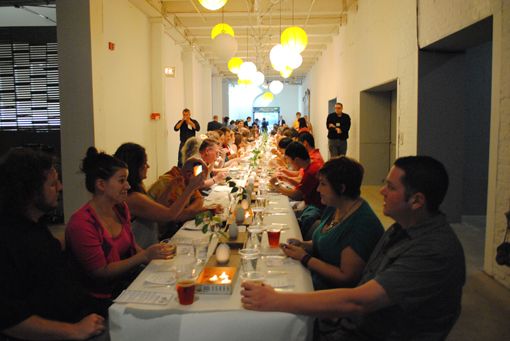 The Bemis Center's very first FEA$T (Funding Emerging Artists with Sustainable Tactics) sold out almost immediately after the doors opened Saturday evening, May 19. Over 110 diners packed the house to donate their support and enthusiasm to the event.
Inside, guests took a seat at a table that was over 100 ft. long. Chefs Julie and Keith Friederich, of La Buvette restaurant, prepared a seafood bouillabaisse with oysters, clams, shrimp and cod with toast points and safron. During dinner, six artists and art collaborators gave brief presentations about projects that need a little extra financial push to get off the ground. After the presentations, diners voted on their favorite.
The voting was very close, but Ying Zhu's promises of an interactive cotton candy exhibition won over the crowd, as she took home a Bemis Center tote bag filled with $1,369. Zhu plans to use funds generated by the cotton candy project to restore her Benson studio, an effort that she will report on during the next FEA$T in November.
FEA$T is based on multiple successful micro-granting models around the country. Crowd funding is concept uniquely suited to the arts, where something grand can often be accomplished with a relatively small amount of seed money. FEA$T capitalizes upon this model, with all the proceeds supporting ambitious concepts by area artists.