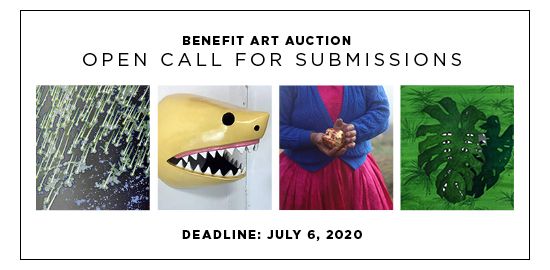 Artists often inspire, educate, and serve as harbingers of radical paths forward through their work. Bemis Center believes in the power of art and invites U.S.-based artists to submit artwork for the 2020 Benefit Art Auction.

New This Year: 
Accepted artists will receive a one-time honorarium of $300, in addition to the standard 50% commission on the sale of their artwork.
Bidding will begin at 70% of provided retail price.
Due to COVID-19, this year's Auction will take place online only, giving access to patrons around the world. 
Public viewing of the Benefit Art Auction Exhibition will be permissible, by appointment, beginning October 1. 
Artists may submit up to two works, but only up to one per artist will be accepted by our jury.

Additionally, as always, accepted artwork entitles you to: 
A one-year Bemis Center Membership.
Bemis Alumni Status (for more information visit bemiscenter.org/alumni).
Free shipping for your donated artwork (FedEx Express and Overnight Package Services excluded).
Free framing for Benefit Art Auction Exhibition (if applicable to submission).
SO MANY HUGS...AS SOON AS WE SAFELY CAN!

Timeline:
June 10–First day to submit artwork
July 6–Final day to submit artwork
August 14–Artwork must be received by Bemis Center 
Mid-July–Notification of selected work
October 1–Artwork viewable online 
October 1–Exhibition viewing, in-person, by appointment
October Date TBD–Online bidding begins
October 30–Online Benefit event and final opportunity to bid on artwork 

There is no fee to submit. For additional information, visit our FAQ.

Thank you for generously supporting Bemis Center for Contemporary Arts with your participation. 

SUBMISSIONS ARE DUE BY JULY 6.
---