Underground: The Things I Cannot Say: New Work By Rebecca Herskovitz
Event Time: February 19 - March 27, 2010
Additional Info
WHAT: Solo exhibition in the Underground
WHO: Rebecca Herskovitz
WHEN: Opening Reception: Friday, February 19, 2010 | 6:00 - 9:00 p.m.
Gallery Talk: Saturday, February 20, 2010 | 12 noon
Exhibition continues through March 27, 2010
WHERE: Underground, Lower level of the Bemis Center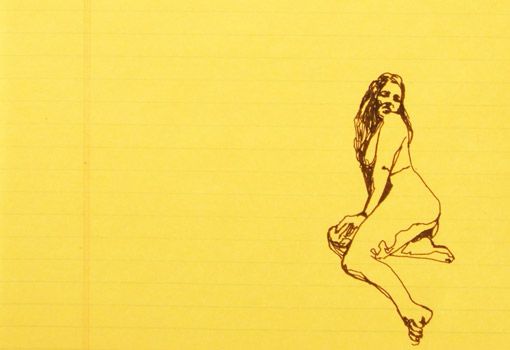 The Underground extends the Bemis Center for Contemporary Arts' mission to support exceptional talent. It not only serves as a venue for emerging and established artists to explore process and projects, but plays an active role in stimulating discussion and conceptualization of contemporary art. Programming includes gallery talks, workshops, exhibitions and additional events which will be posted on bemiscenter.org.
Rebecca Herskovitz creates paintings, drawings, and installations which explore the junction between the intimate and the disingenuous. Her current body of work uses text and re-interpreted erotic imagery to investigate the human experience, asking the questions: What is connection? What is loneliness? What are the things we cannot say? Rebecca is highly influenced by her background as a teacher and community organizer. She is inspired by the work of Marlene Dumas, Jenny Saville, and Egon Schiele, as well as her own personal experiences and extraordinary students. Rebecca has exhibited her paintings and mixed-media work on both coasts and in Omaha.
Rebecca earned her B.A. in Studio Art with concentrations in Sociology and Urban Development from Clark University in Worcester, Massachusetts, where she also went on to earn her M.A. in Teaching. She has taught high school-level Visual Arts for several years and is currently a passionate Special Education teacher with the Omaha Public Schools.
In the news:
Three Part Harmony by Michael J. Krainak, courtesy of The Reader, March 11, 2010
Letter-writing artist invites Bemis visitors to join in by John Pitcher, courtesy of the Omaha World Herald, Feb 25, 2010

Additional Sponsors:
Clark Creative Group
Upstream Brewing Company
Warren Distribution
Categories:
Past Exhibitions
main event calendar
Past Events