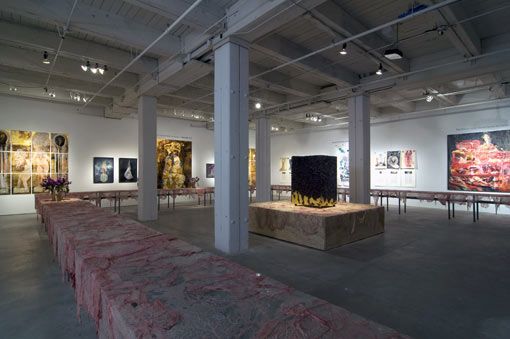 Opening Reception: Friday, May 1 | 6:00 - 9:00pm
Artist Talk: Saturday, May 2 | 12 noon
May 1 - June 6, 2009
Paul Renner's exhibition The Omaha Diner is a presentation of art objects and nose-to-tail cooking, which culminates in a six course array of culinary delights served at two dinner celebrations to a total of 160 guests. Renner is a singularly bold artist, with activity spanning painting, performance art, jubilant social theater and hyper-adventurous cuisine. He creates ecstatic feasts that present food as sculpture and paintings as mythic backdrop, set within environments that transform the experience of his guests/eaters into art.
Gastrosophical Journey Through Europe: May 8
Gastrosophical Journey Through the United States: May 9
ARTHOUSE at Film Streams with Paul Renner The Cook, the Thief, His Wife & Her Lover: April 28
Renner situates his art and actions between physical and metaphysical extremes. His actions are anarchic, subversive, and experimental, and his exhibitions aim to create both a Gesamtkunstwerk and an artificial paradise. Is The Omaha Diner a soup kitchen for the rich, a gourmet kitchen for the homeless, or a chamber of wonders for daily use? Renner poses these questions in an exploratory fashion to himself and visitors alike. Throughout its duration at the Bemis Center, Renner's exhibition will amplify and dissect sense and sensibility with equal abandon.
There is a rich, uneasy joy in Renner's confrontation of cultural ideals. His work upends prevailing notions of luxury and thrift through sloppy/succulent ingredient pairings, unfussy presentation and his own presence — a hyper-sane artist acting the role of unhinged chef. His dinners drive a wedge into the heart of the current debate surrounding the future of food-growing and eating in America. Yet rather than make a forceful statement, Renner emphatically reframes the issue and scrambles the social hierarchy, making a place the freegan and agribusiness CEO can equally call home.
In the vibrant history of artist-orchestrated meals, Renner's expression is perhaps the most complete. Encompassing extreme ideas about food, humor, performance art and the social potential inherent in coming together for a meal, his events offer intimate/explosive experiences of art, eating and community.
For this project Paul Renner has partnered with Paul Kulik, executive chef of The Boiler Room, to create the meals.
In conjunction with the exhibition, the Bemis Center and Film Streams are presenting a one-night screening of The Cook, the Thief, His Wife & Her Lover, Peter Greenaway's landmark 1989 film, followed by a conversation about the film with Paul Renner. Food, sex, lust, gluttony, murder, and revenge are the primary ingredients to Greenaway's fearless black comedy, whose visual feasts prompt an exciting dialogue with Renner's work.
About the Artist
Paul Renner lives in Bregenzerwald, Austria, and in Piedmont, Italy. His exhibition projects culminate in the staging of theatrical soirées at which visual arts and performing arts are informed by culinary art and for which he designs buildings (Theatrum Anatomicum), stages festivals (Vakanz) and founds travel clubs (The Hell Fire Touring & Dining Club). He has presented projects at the Kunsthaus Bregenz, the Leo Koenig Gallery, the Kunsthalle Wien and collaborated with figures as diverse as Hermann Nitsch, Ferran Adrià, Medlar Lucan and Durian Gray.
Press
Avant-garde artist, local chef cook up over-the-top feast | John Pitcher, Omaha World-Herald | 5.14.09
Art: The Bemis is Hungry | Michael Joe Krainak, Omaha World-Herald | 5.6.09
Meaty Topics | Sarah Baker and Lainey Seyler, The Reader | 5.7.09
Exhibitions presenting sponsor: Omaha Steaks
The Omaha Diner Sponsors: The Betiana and Todd Simon Foundation
Sponsors: The Boiler Room, Clark Creative Group, the Nebraska Arts Council and Upstream Brewing Co.