Event Time: February 19 - March 27, 2010
Additional Info
WHAT: Solo exhibition in the Underground
WHO: Matthew Carlson
WHEN: Opening Reception: Friday, February 19, 2010 | 6:00 - 9:00 p.m.
Exhibition continues through March 27, 2010
WHERE: Underground, Lower level of the Bemis Center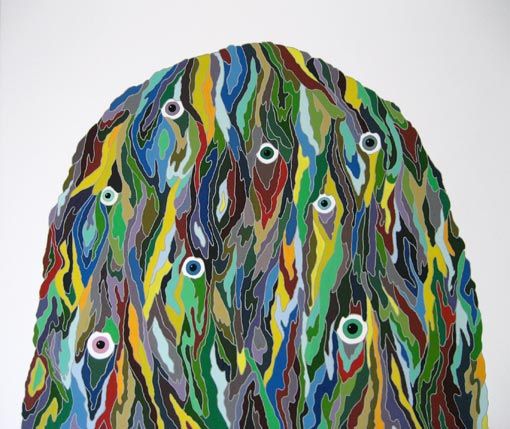 The Underground extends the Bemis Center for Contemporary Arts' mission to support exceptional talent. It not only serves as a venue for emerging and established artists to explore process and projects, but plays an active role in stimulating discussion and conceptualization of contemporary art. Programming includes gallery talks, workshops, exhibitions and additional events which will be posted on bemiscenter.org.
Shapeshifters, Matthew Carlson's first solo exhibition in the Underground, presents a new body of work that continues his investigation into building a visual vocabulary and creating paintings of dream-like imagery. The practice of painting is a primary means for Carlson to discover and reinvent in an attempt to articulate experience through metaphoric imagery that explore the human condition including transformation, evolution of consciousness, and nostalgia. Shapeshifters affirms the artist's interests in anthropomorphic imagery and symbolism and how it has been employed from early folklore/mythology to its prevalence in contemporary popular culture.
Shapeshifters will be Carlson's fourth appearance in an Underground show and his first as a solo exhibition. He is a recent graduate of the University of Nebraska at Omaha where he earned his B.F.A. in painting. Along with collaborator Phillip Faulkner, Carlson curated 2008's vision / re-envision in the Underground, the show that propelled the pair to an Omaha Entertainment and Arts Award for best group exhibition and a best emerging visual artists award for Carlson.
In the news:
Matthew Carlson at the Bemis Underground by Kelly Eggerss, courtesy of Omahanightlife.com, February 4, 2010
Letter-writing artist invites Bemis visitors to join in by John Pitcher, courtesy of the Omaha World Herald, Feb 25, 2010
Three Part Harmony by Michael J. Krainak, courtesy of The Reader, March 11, 2010

Additional Sponsors:
Clark Creative Group
Upstream Brewing Company
Warren Distribution
Categories:
Past Exhibitions
main event calendar
Past Events