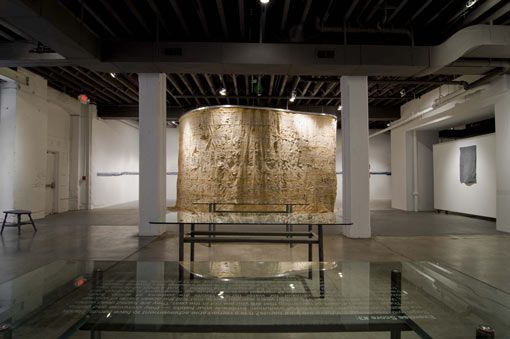 Workshop: Saturday, June 27 | 12 noon - 4:00pm
June 26 - September 5, 2009
The Bemis Center is pleased to welcome MATR: Mobile Apparatus for Temporality Research, a project by the interdisciplinary collective spurse, to Omaha this summer. MATR arrives as a shipping container whose contents expand tactically across the Bemis Center's grounds. MATR operates as an assemblage of work areas, libraries, long-term experiments, visualization and sensory tools that invite the public to explore and make circuits across time.
spurse's MATR Statement
We are running out of time—arctic glaciers melt, ozone layers thin, sea levels rise—just as we invent new durations of time. Deep times (measured in the thousands, millions, and even billions of years) coexist with rapid times (change within very short time periods) which manifest in various forms. We say that the half-life of a material is tens of millions of years, or that ecosystems will radically change in 30 years, or that a continent flows over billions of years, but how do we sense these temporalities?
Across scales and speeds, time is more than simply one event following another. Time is a qualitative transformation prior to and parallel with quantitative measures. Our general inability to conceive and engage with qualitative time impedes new relations with everything from ecologies, to advanced technologies, to emerging forms of government. Our crisis is not climate change, but time itself.
Over centuries we developed conceptual tools to deal with face-to-face interactions and with discrete entities. Yet now in a world of complex systems evolving over both great distances and time scales, these tools betray us. Our logic and our thinking are leading to dangerous changes in our world.
MATR invites the public to re-conceptualize time with spurse in developing a new tool kit for 21st-century citizenry. MATR is a speculative tool that strategically intersects the flows and processes that shape our perceptions of time relative to dwelling, plant life and evolutionary flux. MATR belongs to and is of the world, thriving on participation through modulation across and with multiple scales, agencies and temporalities.
(…for the felt unknowable becoming of things...)
spurse, along with collaborators from Kansas to Baffin Island, is pursuing the long-term development of an open laboratory for the problematics, development, testing, and deployment of material and social infrastructures into a world of deep and rapid time. Clothing/dwelling for temporality --- situated enaction --- cosmological navigation --- politics of sense. Inquiries and curiosities welcomed.
Press
'MATR' of time | Michael Krainak, Omaha City Weekly | Aug. 12-18, 2009
Exhibitions Presenting Sponsor: Omaha Steaks
Sponsors: Clark Creative Group, Davis Erection, Midwest Airlines, Nebraska Arts Council
Event Sponsors: Upstream Brewing Company, Warren Distribution