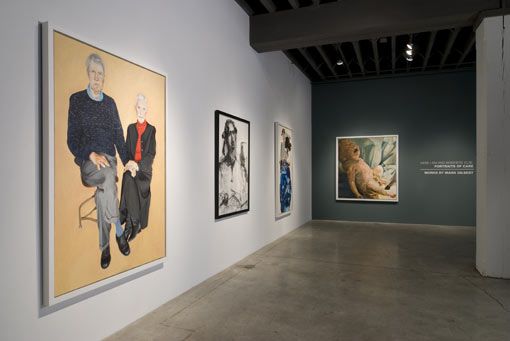 Opening Reception: Friday, December 12 | 6:00 - 9:00pm
Artist Talk: Thursday, February 12 | 7:00pm
December 12, 2008 - February 21, 2009
"I found it interesting to see myself through the lens of Mark's vision. I saw more displayed there on the canvas than I had any idea I had revealed... Through this project, I had an epiphany, a new view of humanity: we all have our own stories, and they are all important."
- "Betsy," Recovered from bariatric surgery for chronic obesity
Here I Am and Nowhere Else: Portraits of Care is an exhibition of portraits of caregivers and patients resulting from a collaborative research effort involving Mark Gilbert and Drs. Virginia Aita and William Lydiatt. Over two years as an artist-in-residence at the University of Nebraska Medical Center (UNMC), Scottish artist Mark Gilbert engaged in an expansive and subtly radical project at the intersection of art and medicine. His remarkably sensitive portraits form a powerful and singular body of work that reveals new relationships between health and illness, patients and caregivers.
Gilbert earned previous renown with his traveling exhibition Saving Faces, a series of paintings depicting facial disfigurement and facial operations. Following that project, Gilbert was commissioned by UNMC to produce paintings, drawings and prints of individuals at every stage of the wellness spectrum. This exhibition emerges from a confluence of interests -- Aita and Lydiatt seeking new cross-disciplinary research models, Gilbert making beautiful, searing portraits and volunteer caregivers and patients lending their time and much more -- and is an anomaly for both contemporary art and medicine. The project asks many pointed questions: Could this community of portraits affect the relationship between patients and caregivers? Might they create a new model for medical research? How will this affect the potential for art to integrate with medicine and can it possibly alter public perceptions of illness? Will the portraits alter their subject's understanding of themselves? How will the public respond to the portraits?
Following Gilbert's creation of the portraits, Aita and Lydiatt collected responses from the subjects regarding their portraits. The responses localized around a common idea -- 'Mark's portrait allowed me to recognize my self (in the context of my illness or role as a caregiver) more fully than I had before'. The work has proven to have a transcendent effect on its individual participants; in this spirit we are pleased to present it to the public.
A series of events are planned throughout the exhibition to create public dialogue and a forum for discussion of issues related to the project. All events are free and open to the public. A catalogue will be published in conjunction with the exhibition featuring contributions by Mark Gilbert, Virginia Aita and William Lydiatt, Mark Masuoka, executive director of the Bemis Center, Hesse McGraw, curator at the Bemis Center, Michael J. Krainak, Dr. Carl Greiner and numerous patients and caregivers who participated in the project. All proceeds from the sale of the catalogue will go to a fund for further research on the intersection of art and medicine, jointly administered by The School of Public Health, the Division of Head and Neck Surgery, and the Bemis Center.
Gilbert attended the Glasgow School of Art and he has shown his work internationally in solo and group exhibitions at such venues as the Royal Scottish Academy (Edinburgh), the National Portrait Gallery (London), the Museum of Modern Art (Wales) and the Medicinhistoriska Museet (Stockholm). His work has been reviewed in publications such as The Daily Telegraph, The Guardian, Il Messagerro Dominica, the South China Morning Post, Der Spiegel, New York Times, the Sddeutsche Zeitung and the International Herald Tribune.
Press
Portraits provide meaning, security to patients | Tom O'Connor, UNMC Today Headlines | 12.22.08
Artist's project finds 'more than just patients' | John Pitcher | Omaha World-Herald | 12.14.08
'Here I Am' exhibit portrays sickness, care | John Pitcher, Omaha World-Herald | 12.11.08
Care Package | Janet Farber, Omaha City Weekly | 12.10-16.08
Patient Portraits | Sarah Baker, The Reader | 6.6.07
Exhibitions Presenting Sponsor: Omaha Steaks
Sponsors: The Nebraska Medical Center, The Division of Head and Neck Surgical Oncology in the Department of Otolaryngology - Head and Neck Surgery, The College of Public Health, Clark Creative Group and Nebraska Arts Council.