WHAT: Solo exhibition in the Underground
WHO: Jeff King
WHEN: Opening Reception: Friday, June 4, 2010 | 6:00 - 9:00 p.m.
Gallery Talk: Saturday, June 5, 2010 | 12 noon
Exhibition continues through July 24, 2010
WHERE: Underground, Lower level of the Bemis Center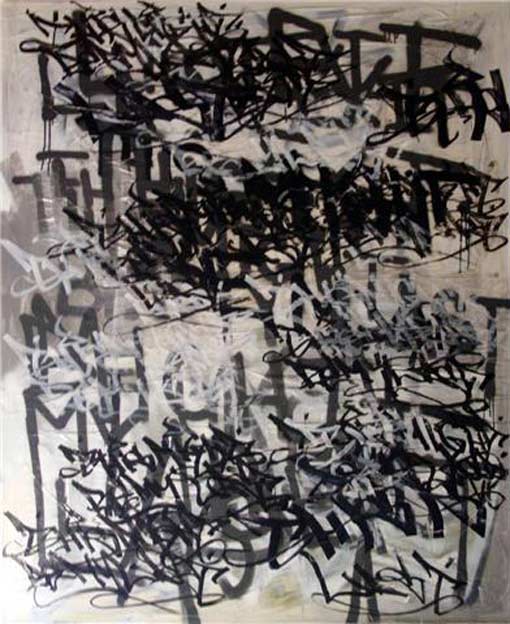 This exhibition embodies a change of artistic focus for Jeff King. Where before the subjects explored were more wide ranging, the new work is personal in every sense -- from meaning to medium. There is less of a graffiti influence, though in some cases still present. These paintings are viewed as poems. In contrast to previous bodies of work, which were heavily text-based, these new pieces revolve around human or animal forms.
Jeff King, a lifelong Nebraska resident, was born in 1974. He began drawing as a child and his interest developed through both education and observation into a love of personal expression through his paintings. Jeff's work reflects his interest in urban culture and comments on his interpretation of society. He credits his influences to both mainstream and underground artists such as Jean Michel Basquiat, Cy Twombly, and Phase 2. He resides in Omaha with his wife, Jennie, and their son, Levi.
In the news:
Identity Check by Michael J. Krainak, courtesy of The Reader, June 16, 2010
Underground Sponsors:


Additional Sponsors:
Clark Creative Group
Quail Distributing
Upstream Brewing Company
Warren Distribution
Categories
main event calendar
Current Exhibitions