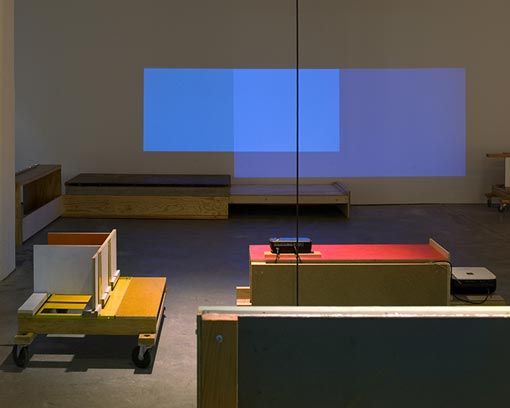 Opening Reception: Friday, January 22 | 6:00 - 9:00pm
Artist Talk: Saturday, January 23 | 12:00 - 2:00pm
Process Talk: Thursday, January 14 | 6:00pm
January 22 - May 8, 2010
James Woodfill makes sculptures, installations and public art works that often include light, sound, video or kinetic elements. Whether presented in galleries or permanently installed in quotidian public spaces such as parking lots, garages, bridges, courtyards, or self-storage facilities, Woodfill's works amplify the conditions of their surroundings and heighten our interactions with the site. By shifting our experience and memories, his works nudge neutral urban sites and gallery spaces into Places. This shift is often imperceptible, closer to a drift, that realigns the parking lot or static white cube as a place to be. The lure is not achieved through fussy decoration or a glossy makeover but through dissolving into the place itself - his works reflect the dumbness of their environment. Woodfill never aims for the transcendent metaphor, rather he makes an endearing wager with the actual conditions of our surroundings.
The exhibition Stations is a new installation of works conceived specifically for the Bemis Center. These works extend from Woodfill's history of working in galleries and public sites and build upon an ongoing dialogue about reference points such as physical perception, architectural space, urbanism's fuzzy edges, materiality and abstraction. In early conversations about this exhibition, Woodfill claimed he was looking for the work to "hover between a constructivist painting and a fireworks stand." Beyond melding high and low cultures, this thought merges the formal concerns of pure, systemic painting with the ad hoc, functional beauty of cobbled structures.
For three decades Woodfill has improvised in his studio with an ever-expanding kit of parts. His kit includes specific materials (sign flashers, amplifiers, bulbs, motors, plywood, 2x4s, ladders, casters), reference points and formal gestures but avoids an iterative process. One never gets the sense of a predetermined outcome in his work; rather a restless freebuilding, an artist working at the act of working and reveling in the drift.
James Woodfill will be working in residence at the Bemis Center from January 8 to January 22. Please join us for a mid-stream discussion on Thursday, January 14 at 6:00 p.m.
This exhibition is organized by Hesse McGraw, Bemis Center chief curator.
About the Artist
Kansas City based artist James Woodfill's exhibitions and public art works have received significant national recognition for their effects on the perception of space. Woodfill's work has been reviewed in such publications as Art In America, Art Papers, New Art Examiner, I.D. Magazine and Sculpture magazine. His public work has been widely recognized with numerous awards, including awards from the American Institute of Architects. Woodfill's efforts have extended into education, curatorial projects, writings and numerous urban planning projects and studies. He received a Charlotte Street Foundation award in Kansas City and was awarded a multi-year studio grant from Review Studios. In 2000 he served as visiting assistant professor in experimental mixed media at the University of Nebraska, Lincoln. Woodfill graduated from the Kansas City Art Institute in 1980 and he has taught there since 1998.
Press
City Art: 'Freebuilding' | Michael J. Krainak, CityWeekly | 4.7.10
Colorful art exhibit puts light, lumber, kids to use | John Pitcher, Omaha World Herald | 1.28.10
Exhibitions Presenting Sponsor: Omaha Steaks
Sponsors: ArtsKC Fund Inspiration Award, Clark Creative Group, Nebraska Arts Council, Quail Distributing, Rybin Plumbing & Heating, Sherwin Williams, Upstream Brewing Co., and Warren Distribution