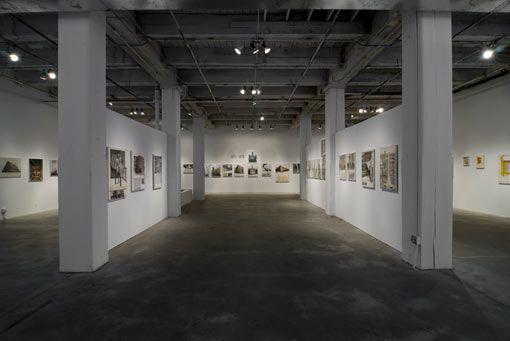 Opening Reception: Friday, January 23 | 6:00 - 9:00pm
January 23, 2009 - April 4, 2009
The Bemis Center for Contemporary Arts is proud to present Christo and Jeanne-Claude: Prints and Objects. This collection of works features the most integral aspects of the world-renowned artists' versatile career. Extremely varied in both content and technique, this collection has not been exhibited in the United States in over 15 years and includes over 130 original numbered editions of prints and objects by Christo and photographic editions by Wolfgang Volz of works by Christo and Jeanne-Claude. Works in the collection represent the diversity of their oeuvre and date from as early as 1962 to works created in 2008.
The works in the exhibition relate to large works of art in which Christo and Jeanne-Claude have made short-term, reversible interventions in cityscapes and landscapes. Some works show completed projects while others show the artists' conceptions of projects never realized. Many of the works represent Christo's preparatory drawings and collages, made in anticipation of a project's realization. Once completed the large-scale temporary works of art are recorded through photographs, films and videos.
Notable pieces in the exhibition include preparatory works and documentation photographs of Surrounded Islands, Biscayne Bay; lithograph/collages of Arc De Triomphe Wrapped and Wrapped Opera House, Sydney; photographs of Valley Curtain and Running Fence; and objects such as Wrapped New York Times and Wrapped Payphone., The exhibition also includes four collages produced by Christo in anticipation of Over the River, Project for Arkansas River, State of Colorado, a large-scale project currently in process.
Press
Wrap Stars | John Pitcher, The Omaha World-Herald | 2.12.09
What Recession? | Sarah Baker, The Reader | 1.8.09
Exhibitions Presenting Sponsor: Omaha Steaks
Sponsors: The Nebraska Arts Council, Clark Creative Group and Upstream Brewing Co.
Organized by Metropolitan State College of Denver, Center for Visual Art, Denver, CO. Christo and Jeanne-Claude derive no income from this exhibition.