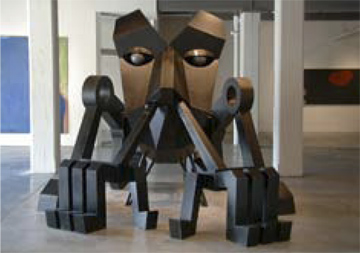 WHAT: An exhibition featuring large-scale drawings
WHO: Past Bemis Center Artists-in-Residence
WHEN: December 7, 2007 - February 23, 2008
EXHIBITION OPENING NIGHT: Friday, December 7, 2007, 7:00 - 10:00 p.m.
WHERE: Bemis Center for Contemporary Arts, 12th & Leavenworth
Omaha, NE -
Many people tend to think of drawings as "sketches," preparations in the creation of a painting or sculpture. But drawing is one of the most basic and "primal" of all artistic expressions, and its history dates back to cave paintings when man first converted a simple mark into a complex image. Many of the world's greatest artists, irrespective of medium, mastered drawing and continued to practice it long after turning to other media. Da Vinci, Rembrandt, Michelangelo, Degas, van Gogh and Picasso are just a few artists critics acknowledge as masters of this art form, and the works featured in Building a Legacy: Drawing beautifully illustrate what contemporary artists are accomplishing with drawing today. The Bemis Center for Contemporary Arts presents this exhibition December 7, 2007 - February 23, 2008, and an Opening Reception takes place Friday, December 7, 2007, 7:00 - 10:00 p.m.
To underscore the infinite possibilities of the medium, Drawings features many different approaches. Jeremy Stern, assistant director for the Bemis Center and the curator for this exhibition, says: "Drawings have always been my favorite works to look at because you are able to see the spark in a sketch that makes a bigger idea, and to see that spark made into an amazing final work of art, still in the format of a drawing." Ian Harvey and Koo Kyung Sook worked collaboratively at the Bemis Center for the first time to produce works that are a hybrid of their personal styles. Sook explores the figure in tandem with Harvey's media experimentation. Dorota Mytych uses video to create drawings made from tea leaves, which assemble into an image only to abruptly fall apart. Michael Barnes and Oscar de las Flores take allegory and narrative to new levels in their works. While both are printmakers by trade, they each use graphite and ink to work in a scale that printmaking does not allow. Barnes' work is 5 x 10 feet, while Flores' is 4 x 7 feet. At 13 x 11.5 feet, Hajime Mitzutani's drawing demonstrates drawing's massive possibilities, whereas Timothy Guthrie, through his delicate approach to traditional portraiture, proves drawing's inherent versatility. Although all these works are impressive in size, it is ultimately the skill and vision of each artist that remind us that drawing -- with its millennia-long history -- still remains one of the most powerful means for artistic, and human, expression.
Add Bemis Center events directly to your Google Calendar. Click the button to get started.
Artists featured in Building a Legacy: Drawings
Michael Barnes
Kent Bellows
Oscar de las Flores
Ian Harvey + Koo Kyung Sook
Hajime Mizutani
Linn Myers
Dorota Mytych
Terry Rosenberg
David Simpson
The Bemis Center's exhibition program is sponsored by:
Omaha Steaks
Additional Sponsors
Clark Creative Group
Nebraska Arts Council
Upstream Brewing Co.
Add Bemis Center events directly to your Google Calendar.
Click the button to get started.