Event Time: August 8, 2008 - September 13, 2008
Additional Info
WHAT: vision / re-envision at the Bemis Underground
WHO: Artist/curators Matt Carlson and Phillip Faulkner
WHEN: Opening Reception Friday, August 8th at 7:00 p.m.
Continues through September 13th
WHERE: Bemis Underground, 12th & Leavenworth Streets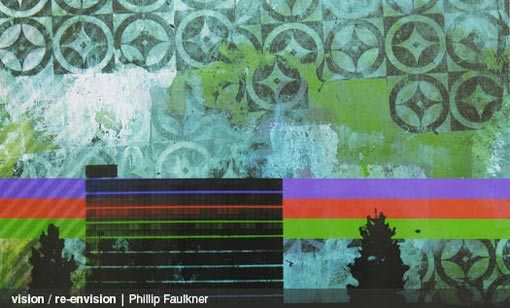 Pixilated paintings intersect with variegated videos in the nexus of technology and art that is vision / re-envision, the new Bemis Underground show curated by Matt Carlson and Phillip Faulkner. An opening reception on Friday, August 8 from 7 p.m. to 10 p.m. introduces the artists and their work in a show that runs through September 13.
Faulkner integrates digital print and screen media into a series where static imagery is layered with time-based elements. Whether augmented as projections dancing across the surface of paintings or embedded directly into the bowels of a work, Faulkner's co-mingling of video and painting seeks an entirely "other" medium at the crossroads of traditional and new media.
Carlson's paintings, often done on paper, aim to build a new visual vocabulary where abstract images flirt with sometimes primitive or nostalgic narratives to evoke juxtapositions of the cerebral and the ornamental. His pixel series parallels an increasingly digital world where, in the end, everything may be reduced to a now familiar lowest common denominator.
vision / re-envision finds the ambiguous clashing with the literal in a cacophony of contrasts where technology meets traditional.
About the Artists:
Matt Carlson is a recent graduate of the University of Nebraska at Omaha, where he earned his BFA in painting. Carlson was a 2002 recipient of the Nebraska Young Artist Award and this marks his third appearance in a Bemis Underground show and the first as a curator.
Phillip Faulkner completed his MFA studies in electronic media and design at Denver University earlier this summer after earning his BFA from the University of Nebraska at Omaha in 2005. He also has previously shown work in the Bemis Underground and received the best editing award in the 2004 at the Omaha Short Film Festival.
In the news:
Fresh Paint/2 Coats by Michael J. Krainak, courtesy of the City Weekly, August 8, 2008
Add this and other Bemis Center events directly to your Google Calendar. Click the button to get started.