Event Time: November 7, 2008 - December 6, 2008
Additional Info,
WHO: Curators Susan White and Corrie Van Sice

WHAT: Navigating the Neurosphere

WHEN: Opening Reception Friday, November 7 | 7:00 p.m.

WHERE: Bemis Underground, 12th & Leavenworth Streets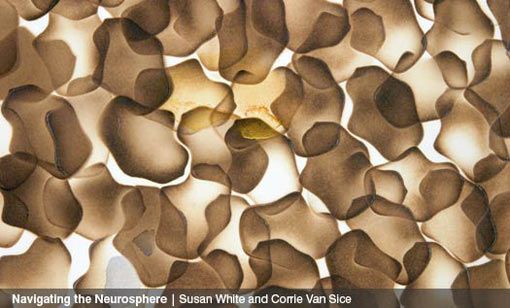 The Bemis Underground will become a landscape of the mind as Kansas City artists Susan White and Corrie Van Sice bring Navigating the Neurosphere to the subterranean gallery for a 7:00 p.m. opening night reception on Friday, November 7.
The artists will transform the Underground into a topography that suggests the rich field of mental activity. From the voracious self-talk that threatens to consume us as manifested in brooding figures slinking around in the shadowy corners of the gallery, to the playful, supple matter of ideas that become wandering tendrils of curious neural bodies, Navigating the Neurosphere attempts to tap into a common humanity.
With oversized video projections, ethereal sounds and a magical array of lighted and polished forms, the marvel and mania of constant mental activity reveals the gift – and curse – of self-reflective thought. A field guide to parry poisonous thinking in balancing thought, experience and action, Navigating the Neurosphere spirals toward an invisible and perhaps non-existent summit.
Navigating the Neurosphere runs through December 6th.
About the Artists:
Susan White, a BFA graduate of the Kansas City Art Institute, has presented video installations at the Salina Art Center and through the Urban Culture project in Kansas City. Best known for her large-scale pyrographs, or burn drawings, her work is in the permanent collections of Hallmark Cards, Sprint/Nextel and H & R Block.
Corrie Van Sice, also a BFA graduate of the Kansas City Art Institute, has worked as a designer and fabricator for a host of galleries, museums and studios. She has led workshops and lectures at both the Kemper Museum of Contemporary Art and the Kansas City Art Institute where her interest in the relationship between science and art is reflected in such topics as olfaction, ecology and technology.
In the news:
Minefield of the Mind by Sally Deskins, courtesy of The Reader, November 12, 2008
Add this and other Bemis Center events directly to your Google Calendar. Click the button to get started.