Event Time: October 10, 2008 - October 24, 2008
Additional Info
WHO: Curator George Sisson with John Bruggeman, Jake Gillespie, Sara Kovanda, Jessica Wynne Plymate, Pawl Tisdale and Raws
WHAT: Fudgelock | Bemis Underground
WHEN: Friday, October 10th at 7:00 p.m..
WHERE: Lower level of the Bemis Center for Contemporary Arts, 12th and Leavenworth Street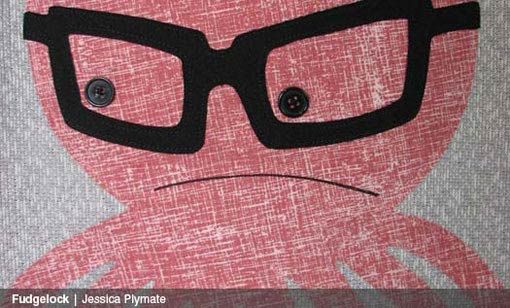 The Bemis Underground will be the scene of a 7:00 p.m. opening night reception for our newest curator-in-residence show when Fudgelock debuts on Friday, October 10th. The moniker is as much of a mystery to us as it is to you, but the enigmatically-dubbed Fudgelock promises seven of the area's leading prevaricators of provocative painting, video and fabric arts. Fudgelock runs through October 24.
About the Artists:
George Sisson is the self-described four-year old, spayed Himalayan cat that paints with whiskers and tail. George's sculptures most often reside in a box of clay pellets. She splits her time between Lincoln and Catland.
John Bruggeman lives in Omaha and has worked as a studio assistant to Jun Kaneko. His work has been seen at the Bemis and Sheldon Memorial Art Gallery.
Jake Gillespie returns to the Bemis with more animated videos following the success of ALPHABET, his solo show at the Sheldon last year.
Sara Kovanda gets her creative inspiration from her many years as a musician, composing paintings as she would electronic sound. Aliens, radio waves and space travels, she says, guide her work.
Jessica Wynne Plymate, the owner of the Lincoln boutique aorta, promises to "dress you up in my love" with her "there's no accounting for taste" line of original apparel.
RAWS ( AKA…oh, never mind) is a painter of mutilated monsters and mutants in celebrating the weird, the homo-erotic and the controversial with masked self-portraits of rotting metal.
Pawl Tisdale, as he puts it, swims blindly through synapse firings to demonstrate the absurdity of pretentiousness while at war with his own seriously squirrely ego.
In the news:
Wild Card by Sarah Baker, courtesy of The Reader, October 8, 2008
Add this and other Bemis Center events directly to your Google Calendar. Click the button to get started.