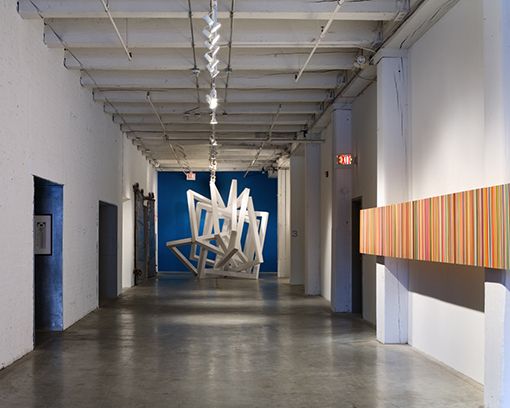 Opening Reception: Friday, January 22 | 6:00 - 9:00pm
Artist Talk: Saturday, January 23 | 12:00 - 2:00pm
January 22 - May 8, 2010
Borderland Abstraction includes several generations of artists working throughout the United States who are invested in the expanded possibilities and problems of abstraction. Their work, in painting, sculpture, photography and video, often attaches to other disciplines - music, architecture, film, urbanism, virtual space - with a fervor that swells the limits of abstraction.
Artists: Tim Bavington, Nate Boyce, Michelle Grabner, Amy Granat, Mary Heilmann, Matthew Kluber, Takeshi Murata, Ara Peterson, Eli Ping, Eric Sall, Colin C. Smith and Wendy White.
Debate on abstraction ballooned in the last decade, engulfing issues as varied as the politics of beauty, material ingenuity, site-specificity and fragmentation. Response to these issues splintered into strongly worded arguments on the cause of visual pleasure v. market pressure; iteration v. spontaneity, the offhand gesture v. formal purity; reductivist aesthetics v. maximalist expression; and on and on. Rather than wallow in these debates, which ultimately shift focus from the work and its ideas, this exhibition explores the vibrant cracks in between, places where there are authentic pleasures in the making, looking and thinking about contemporary abstraction.
Nils Folke Anderson will be building work at the Bemis Center from January 19 to January 22. Please join Bemis Center Curator Hesse McGraw and Anderson, Matthew Kluber, Colin C. Smith and Wendy White for a discussion about the exhibition and their works on Saturday, January 23 from noon to 2:00 p.m.
This exhibition is organized by Hesse McGraw, Bemis Center curator.
Press
Border Crossings: Bemis Exhibit Explores Beyond the Margins of Contemporary Abstract Art | Michael J. Krainak, The Reader | 2.4.10
Artists use old, new media in group show at Bemis | John Pitcher, Omaha World Herald | 2.4.10
A good time to ask: What is abstract art? | John Pitcher, Omaha World Herald | 1.24.10
Exhibitions Presenting Sponsor: Omaha Steaks
Sponsors: Clark Creative Group, Midwest Airlines, minorwhite studios, Nebraska Arts Council, Quail Distributing, Rybin Plumbing & Heating, The Sound Environment, Sherwin Williams, Upstream Brewing Co., and Warren Distribution
Installation photos by Mike Sinclair Photography