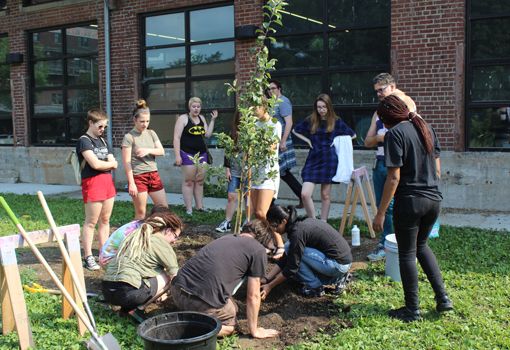 ABOUT URBAN FRUIT TRAILS
Fallen Fruit is an art collaboration originally conceived in 2004 by David Burns, Matias Viegener, and Austin Young. Since 2013, Burns and Young have continued the collaboration. Urban Fruit Trails was organized in conjunction with the exhibition Fallen Fruit: Power of People, Power of Place.
Urban Fruit Trails invites the public to explore urban space through a network of apple trees that form a series of walking trails. Planted along sidewalks and interstitial urban spaces, the pathway of the apple trees in Omaha aims to connect neighborhoods from north to south. Bilingual signage (Spanish and English) placed at each tree reads: 
These fruit trees belong to the public. They are for everyone, including you. Please take care of the fruit trees. When the fruit is ripe, taste it and share it with others. This apple tree is ripe in September/October.
PLANTING SITES
Bemis Center (Old Market), 724 S. 12th Street, 68102
Gene Leahy Mall, corner of 13th & Farnam, 68102
Joslyn Art Museum, 2200 Dodge St., 68102
Liberty School, 2021 St Marys Ave, 68102
Siena/Francis House, 1702 Nicholas St, 68102
North Star Foundation, 4242 N 49th Ave, 68104
Bemis Center (Carver Bank), 2416 Lake Street, 68111
Long School Neighborhood Association, 2123 N. 27th Street, 68111
Malcolm X Foundation, 3448 Evans St, 68111
Neighborhood Action in Fact Community Garden, 25th & Manderson Street, 68111
South Omaha YMCA/Intercultural Senior Center, 3010 R St., 68107
Gifford Park, 3416 Cass Street, 68131
Urban Fruit Trails Omaha was organized by the Bemis Center for Contemporary Arts, in collaboration with Diana Failla, CEO at the Urban Bird & Nature Alliance; Teal Gardner, Kent Bellows Mentoring Program Community Coordinator at Joslyn Art Museum; and Brent Lubbert, co-founder of Big Muddy Urban Farm. Ten of the twenty-four trees were planted by teens in the Kent Bellows Mentoring Program, under the guidance of Gardner as well as Kyle Johnson, Joslyn Museum Landscape Maintenance Technician.
The project was funded by generous grants from Lincoln Financial Foundation and ReTree Nebraska.