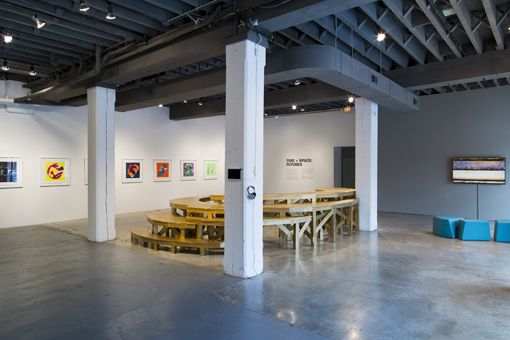 June 16–September 17, 2016
Opening Reception: June 16, 6pm–9pm
Project Space 1, 3, Video Room
Since 1981 the Bemis Center has provided artists with time and space to produce new work and take creative risks. In this yearlong two-part exhibition series, Time + Space examines and reflects on and celebrates the organization's thirty-five years of supporting artists from around the world. Beginnings, the exhibition's first chapter, explored earth as medium and subject matter, and was inspired by Bemis's origins as an artist-in-industry program for artists working in clay and ceramic sculpture. 
Futures, the second chapter, coincides with our second thematic residency, "Sci-Fi and the Human Condition," and celebrates Bemis alumni who take vastly different approaches to concepts of time and space. The exhibition surveys the science-fiction or futurist impulse in the work of Bemis alumni, paying special attention to social criticism or protest—the dream of a new social order expressed in terms of magic, the fantastical, dystopian and utopian futures, postapocalyptic worlds, artificial intelligence, futurist architecture, and the location of self within an imagined future. Newly commissioned projects and performances in this exhibition celebrate the breadth of Bemis's legacy.
Artists exhibited
Ting-Tong Chang (2015), Micol Hebron (2016), Aaron Jones (2015), Gabriel Martinez (2015), nova Milne (2012), Kambui Olujimi (2009), Robert Pruitt (2015), Jessica Segall (2015)
–
Exhibition installation photographs: Colin Conces.