Liv Schulman: The New Inflation, a live performance in three episodes presented March–June 2020
DEADLINE EXTENDED: NOVEMBER 20, 2019
In 2020, Bemis Center for Contemporary Arts will host the first American presentation of work by Paris-based artist Liv Schulman, recent winner of the 20th edition of Fondation d'entreprise Ricard Prize (2018). This project is curated by Sylvie Fortin, Bemis Center's 2019–2021 Curator-in-Residence, as part of her research into the currencies of hospitality.
We are looking for actors/actresses of all ages, races, ethnicities, abilities, and experience to take part in a new live performance in three episodes developed by Liv Schulman in Omaha and presented at Bemis Center for Contemporary Arts between March and June 2020. This performance will also be filmed for a future video work. Participants will be compensated.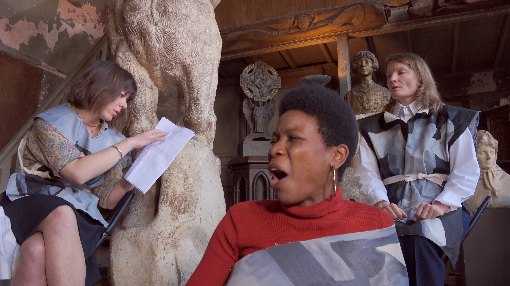 PROJECT SYNOPSIS
The New Inflation is a performance in three episodes that layers several narrative systems. Enlisting a cast of actors, a set of uniforms, staged sculptures, lecturing, and a funny-depressing form of stand-up comedy, Schulman tries to depict a disenchanted economy founded on the principles of error and dependency. This performance straddles different heterotopias such as customs offices at a border crossing, the knowledge constellations produced by informal economies, the successive and ongoing conquests of the Americas, and the emergence of non-logic logic as a currency.
PERFORMANCE AND REHEARSAL DATES
Episode 1
Rehearsal dates: March 7–20
Performances and filming: March 21 and March 26
Episode 2
Rehearsal dates: April 15–29
Performances and filming: April 30 and May 2
Episode 3
Rehearsal dates: May 20–June 3
Performances and filming: June 4 and June 6
REQUIREMENTS
18+ years old with 0–99 years of (acting) experience 
A passion for acting/theater, regardless of your experience
Willing to work collaboratively with a director and other actors and to trust the group to take risks
Able and willing to perform simultaneously for a live audience and on camera
Reliable and committed to this project; you must be available for the stated dates
Ideally, speak English and other language(s)
TO APPLY
We welcome a diverse cast and encourage you to apply if you are interested in exploring this project. Send us a short motivation letter, bio, headshot and/or demo reel (if available), Facebook/Instagram account, and current telephone number by November 20, 2019 at TheNewInflation@gmail.com.
CASTING PROCESS
There will be two phases to the casting process:
Preliminary online interviews will take place in November. 
Selected candidates will be invited to an in-person casting with the artist and the curator at Bemis Center in early December. 
ABOUT LIV SCHULMAN'S WORK
Schulman focuses on the ability of language to affect a body. Through her filmed fictions, theatrical performances, lectures, and novelistic writing, she creates characters and collectives who utter logorrheic speeches, interchangeable ghosts ventriloquized by disarticulated monologues, borrowing from the vocabulary of art, liberal economics, Marxist critical theory, or psychotherapy, trying to recreate affects in the economy under which we live. The main resources for her work are the different translations and adaptations of language through the instrumental use of a body. Free from its receiver, detached from its speaker, delivered in inhospitable situations, Schulman tries to see if language allows for a reorganization of a system. 
About the artist: livschulman.com and youtube.com/user/livsch/videos
About the curator: bemiscenter.org/curator-in-residence
Questions? Email us at TheNewInflation@gmail.com.
Liv Schulman: The New Inflation is organized by the Bemis Center for Contemporary Arts and presented in collaboration with the Fondation d'entreprise Ricard. Additional funding is provided by Étant donnés Contemporary Art, a program of the French American Cultural Exchange (FACE) Foundation; Douglas County, Nebraska; and Omaha Steaks.
The 2019 Curator-in-Residence program is supported, in part, by Carol Gendler and the Mammel Foundation.