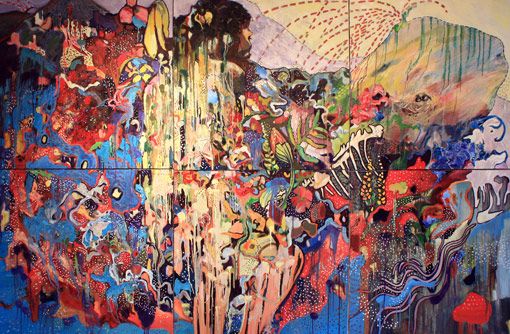 April 27–May 26, 2012
Opening Reception: April 27, 6pm–9pm
Artist and Curator talk: May 5, 12pm

The bemis | UNDERGROUND is proud to present Out of In Focus, featuring two artists who focus on details yet rely on the act of stepping into the distance, both metaphorically and literally, to realize and experience their work.
About the Artist
Alex Borovski is a painter from Lincoln, Nebraska who has constructed an alternate earth in her current body of work. Her large-format multi-panel paintings take the viewer on a ride, beginning miles above the surface and falling fast through various environments and finally arriving within intimate figurative and occasionally pre-historic situations. Her painterly hand builds psychedelic chaos atop quiet dreamlike moments that repeatedly prompt the viewer to come closer while simultaneously forcing distance to take it all in. Borovski is a winner of the 2011 Bemis Center Juried Exhibition.
Where Borovski has created her own world, Omaha artist Lonnie Potter deconstructs ours. For 15 years, he has refined his practice to highlight subtle possibilities in the everyday. Often using humble materials —  stacked kitchen sponges, woven extension cords or magazine clippings — Potter's work achieves an apex of perceived value for his materials, without concealing their original purpose. Potter dwells in objects and images that are usually passed over and, through his careful selection, demands moments of intense investigation toward simple things. For Out of In Focus he is presenting several dozen new works — highly reductive "collages" that have been culled from contemporary art publications and mounted to card stock.
Out of In Focus is curated by Joel Damon, UNDERGROUND curator.
Exhibitions Presenting Sponsor: Omaha Steaks
Sponsors: Clark Creative Group, Larry Gawel Photography, Chris Headley / OmahaComputerHelp.com, Nebraska Arts Council, Nebraska Cultural Endowment, Quail Distributing, Sherwin Williams, Upstream Brewing Company, Visions Custom Framing, Warren Distribution