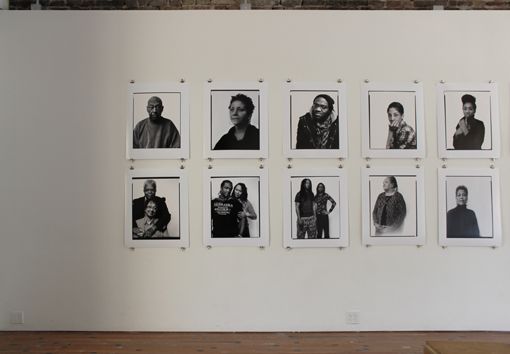 June 9–August 24, 2013
Opening Reception: June 9, 2pm–5pm
Artist Talk: June 19, 5:30pm–7pm
Artist Statement
Omaha Portraits is a portrait series of North Omaha, specifically the black community of Omaha by photographer LaMont Hamilton. Hamilton is a Chicago-based photographer and recent Bemis Center resident — these 37 portraits were produced during his residency. The portraits are displayed in the Carver Bank and will be in storefront windows surrounding the intersection of 24th and Lake Streets.
According to Hamilton, "The intention of this work is to show the richness and diversity of black Omaha. By displaying the images in North Omaha — making the community the 'art,' and displaying the 'art' to the community — I hope to reflect a community filled with history and pride. North Omaha is Omaha. This is Omaha. These are Omaha Portraits."
        Whether I stay or go I will still know what it feels like to be a North Omaha child
        Bone deep and proud
        So I stay
        This is home
        We are not without our problems
        Tell me about the ways we have failed each other
        I can't argue
        We have our reasons to pray and work and love harder
        Still - this is home
        I am at my best here
        -Excerpt of a poem by Zedeka Poindexter
About the Artist
LaMont Hamilton is a self-taught portrait photographer based in Chicago. In his current project, 75 Portraits, Hamilton is traveling across the U.S. photographing prominent artists of color whose representation adds to a new kind of art historical canon.
Hamilton is a 2013-14 Midwestern Voices and Visions Fellow. Midwestern Voices and Visions, led by the national Alliance of Artists Communities and supported by The Joyce Foundation, set out to identify strong voices that represent today's most promising and provocative talent and that reflect the rich diversity of the Midwest – artists whose work may as yet be unfamiliar but whose compelling visions help define the region and the country.
Exhibitions Presenting Sponsor
: Omaha Steaks
Sponsors
: Brand Metal Works, Clark Creative Group, Council Bluffs Recycling Center, Davis Erection and Crane Rental & Rigging, Echo Systems, Education Power | Robert Webber, Larry Gawel Photography, Chris Headley / OmahaComputerHelp.com, Min | Day, Nebraska Arts Council, Nebraska Cultural Endowment, Rybin Plumbing & Heating, Laura and Gregory Schnackel, Sherwin Williams, Mike Sinclair, Upstream Brewing Company, Visions Custom Framing, Warren Distribution
Thank you to Vera Mercer for support of this exhibition and project.