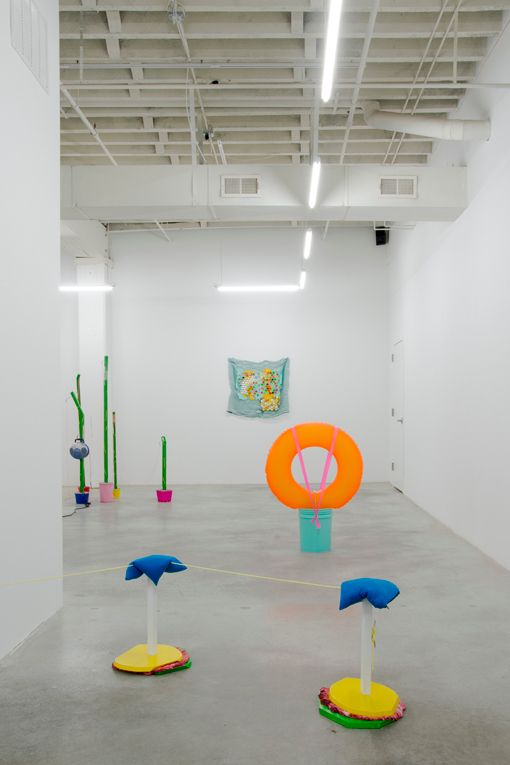 February 22–March 30, 2013
Opening Reception: February 22, 6pm–9pm
Artist Talk: February 23, 12pm
Matt Jacobs, a participant in the 2012 Bemis Center Regional Juried Exhibition, is presenting a solo exhibition of new sculptures, installations and paintings. Jacobs brings together commonplace materials — inflatable toys, cinder blocks, bubble wrap — to create unexpected works that bridge intuitive play with found materials and formal concerns of painting and sculpture.
Jacobs often works with toys, or materials associated with play, and quite literally plays with the material to arrive at works that reverberate between formal invention and material chicanery. Jacobs seems at ease both with the tropes of minimalism and expressionist painting, and finds a middle ground that offers an open field for sculptures and paintings to question their own orientation. Together, his works build a conversation that may be equal parts rousing chorus, melodrama and shrill skepticism. I'm Not Saying, I'm Just Saying is a kind of visual playground where vibrancy is a real quality that provides a litmus test for the buoyancy of our imagination.
I'm Not Saying, I'm Just Saying is curated by Hesse McGraw.
About the Artist
Matt Jacobs was born in Chicago, Illinois. He holds a BFA in Sculpture and Art History from the Kansas City Art Institute. In 2011 he worked at the Chinati Foundation in Marfa, Texas and was awarded an artist residency at The Skaftfell Center for Visual Arts in Seydisfjordur, Iceland. Jacobs' flexible practice, which includes sculpture, painting, drawing and installation, is centered on exploring the aesthetics of misuse, play and humor. His work has been exhibited nationally and internationally in Seydisfjordur, Marfa, Santa Monica, New York City and
throughout Kansas City. Upcoming solo exhibitions include Grimm Schultz Gallery in Brooklyn, New York and The University of Kansas Art and Design Gallery in Lawrence, Kansas. In addition to maintaining a studio practice, Jacobs also pursues critical activities such as writing and curating. His writing has appeared in publications such as Art Tattler, Temporary Art Review and the Charlotte Street Foundation.
Exhibitions Presenting Sponsor: Omaha Steaks
Sponsors: Justin V. Allen Design + Development, Brand Metal Works, Clark Creative Group, Davis Erection and Crane Rental & Rigging, Echo Systems, Education Power | Robert Webber, Larry Gawel Photography, Chris Headley / OmahaComputerHelp.com, Min | Day, Nebraska Arts Council, Nebraska Cultural Endowment, Rybin Plumbing & Heating, Laura and Gregory Schnackel, Sherwin Williams, Mike Sinclair, Upstream Brewing Company, Visions Custom Framing, Warren Distribution