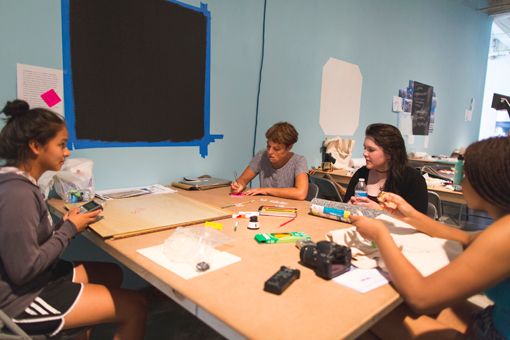 After spending the week learning about urban design and going on excursions to gather information for Department of Local Affairs, the teen researchers set to work on their own group projects. The assignment was to take what they had learned and observed during the workshops and create a work of art based on a theme that was of interest to them. Each group was given full access to the Bemis Center's 4th floor materials warehouse and were given free reign to fill the gallery space with interactive installations.
To begin, each group picked a theme to incorporate into their creative work. Themes included: hip-hop culture and fashion, soundscape, architecture, and town planning. Along with group leaders Teal Gardner, Chloë Bass, Alex Priest, and Laura Carlson, the researchers brainstormed extensively and then gathered material and data. Activities ranged from recording the sounds of the Old Market District and spray painting on canvas, to building models of unique buildings and cityscapes. The researchers worked with paper maché and cardboard, produced hand-made clothes and used collage techniques to adorn logos and document their travels. Each group was asked to write a concise concept statement to summarize their project. Continue reading to find out what the researchers came up with!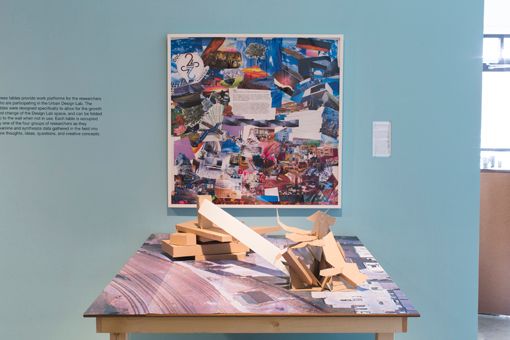 Duo
Daniel Pinto, Eros Shreve, Serenity Bryce, Tasheonna Lewis, Tori Dunston
architectural model and collaged mood board
Duo is a mixed use community center inspired by the downtown Old Market district. It originated out of desire for a place simply to be, to relax, and to improve oneself, yet it has become  complex in its opportunities. Visitors find a place of variety: a variety of cultures, of ages, and of uses, and can expect to do more than just fill their needs.
Duo exists as a mash-up of places to be and things to do. It's glass bridge creates a fusion and connection not only between the two buildings, but also the people inside them. They can experience a variety of things, from playing pool to swimming in one, and from toning their washboard abs to washing your clothes at our laundromat- with something a little more modern than a washboard! The buildings feature not only amenities, but plenty of places to shop and eat as well. Ultimately, Duo is not only a community and shopping center- it requires no particular purpose or reason to visit- instead it is a place to simply be.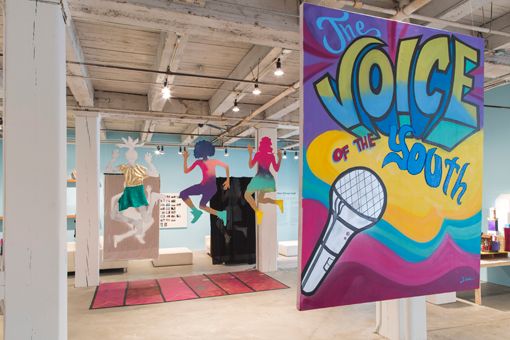 Hip Hop Scape
Claire Tweedy, Eva Taylor, Michaela Hawkins, Nia Allison, Solomon Washington
mixed media: spray paint on cardboard, spray paint on canvas, fabric, package tape
Our group is inviting Bemis visitors into experience this hip hop-scape. It includes a track, cardboard cutouts of active bodies, and a wall of graffiti. Urbanism is experienced by people. People have experiences through design and design is expressed through fashion, music, and the city. What we hope people experience in this space is the complete picture of hip-hop culture. We want everyone to know that hip hop is an art form just as much as a piano piece, the Mona Lisa or medieval architecture. Hip-hop is not just loud catchy beats, but a whole life style that exists in the urban setting that people use to express themselves.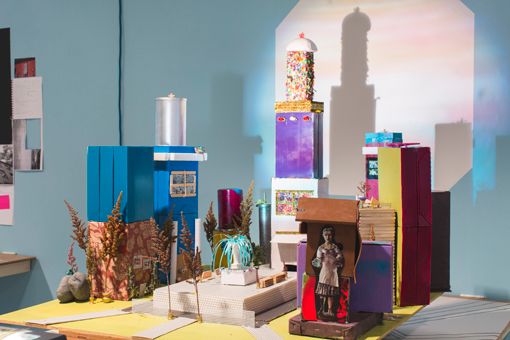 Town Square
Eva Phillips, Luis Salazar, Owen Zahm, Ta'Riance Harris
Model: found materials on plywood base
Map: pencil and permanent ink on paper
Projections: dry erase marker on transparency paper
Our group has created through a spattering of different processes and mediums, a chaotically controlled model city. Using the urban plan of Paris, we developed a collage of different buildings from many different materials. With a focus on the  pedestrian experience, we aim to create a public space that encourages socializing, community, and is fun and exciting to experience. We set no restrictions. From sequined roads to giant lizard gargoyles, our city is a combination of the things we love about the cities we've visited, things we wish existed in our own city, and things that solely exist in our imagination.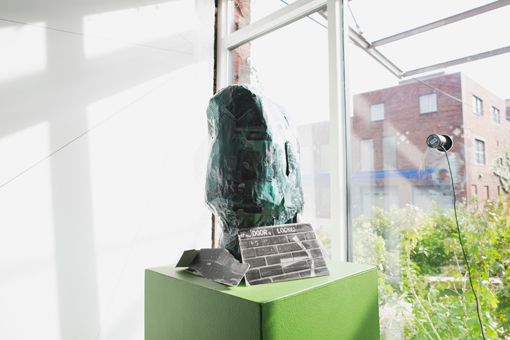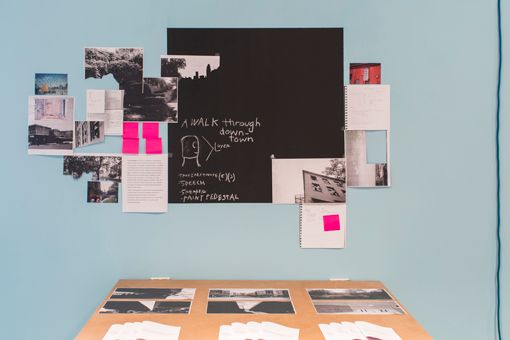 A Walk Through Downtown
Ana Pineda-Gutierrez, Brent Walker, Cecilia Hoggatt, Imani Murray
papier-mâché, chicken wire, photo collage, soundscape
A Walk Through Downtown is a sculpture accompanied by sounds collected in downtown Omaha. This soundscape creates a new, unfamiliar space from familiar sounds. The head sculpture represents the people of Omaha. We recognize that sound is a critical element in space, which locates the listener, tells her how to feel, and characterizes the space.